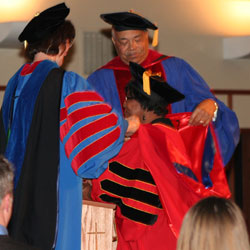 But let me simply remind you of a profound and difficult but wonderful task, we are called not just to love those who love us or those that are easy to love, we're called to love the unlovely, even when it's ourselves
Dayton, OH (PRWEB) December 21, 2012
The Bishop of the Indiana Area UMC addressed the 67 United Theological Seminary graduates on "loving the unlovely" during the Seminary's Advent Commencement held December 14 at Ginghamsburg Church, Tipp City, OH.
Bishop Michael J. Coyner of the Indiana Area UMC was the featured speaker at the seminary's Advent Commencement ceremony, traveling from Indianapolis, IN, to deliver the address.
During his address, Coyner passed on advice that he received from his faculty adviser at Duke Divinity School, Dr. McMurray Ritchey.
"He said, 'The church at its best, draws to itself those who are hard to love and who most need the love of God, and you'd better be ready to love the unlovely,'" Coyner said.
Coyner noted loving the unlovely is a lesson graduates could also apply to themselves.
"Somehow learning to love the unlovely must include us," Coyner said. "And for ministry to endure and thrive and even I'd use the word succeed and be fruitful, it requires an inner change in ourselves to realize, one, I'm the unlovely sometimes, but two, I am loved … So as you go forth in ministry, continue your ministry, build on your ministry, multiply your ministries and engage your ministries of all sorts, all of you in this room are in ministry. But let me simply remind you of a profound and difficult but wonderful task, we are called not just to love those who love us or those that are easy to love, we're called to love the unlovely, even when it's ourselves."
Bishop Coyner has served numerous churches as Pastor, as District Superintendent and as Executive Assistant to Bishop Woody White for the Indiana Area. He was elected a Bishop in the United Methodist Church in 1996 and was assigned to the wonderful Dakotas Area, where he served two terms as Resident Bishop. In 2004, he was assigned to serve the Indiana Area, and in 2012, he was assigned to a third term in the Indiana Conference.
To see the entire Advent Commencement ceremony, click here.
United Theological Seminary, now in its 142nd year, is one of the fastest growing theological schools in the United States. It was founded in 1871 by Milton Wright, a Bishop in The United Brethren Church and father of Wilbur, Orville and Katherine Wright. United offers accredited, innovative graduate and non-degree education programs for both clergy and laity. Click here for more information.