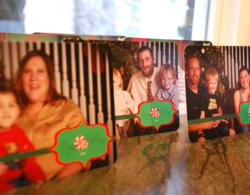 "The people we serve would not otherwise have this opportunity. Their young kids are growing up and who doesn't want a picture of their child during the holidays" Joni Clark, Community Partnerships Manager for Salt Lake Head Start
Salt Lake City, Utah (PRWEB) December 18, 2012
If a picture is worth a thousand words, then 50 families with Salt Lake CAP Head Start, a comprehensive preschool program for families facing adversity, received a worthwhile gift this Christmas season.
Urbanity Studios partnered with Head Start to provide families who are either living at Palmer Court (permanent housing for the chronically homeless) or with a low-income teen parent, with a professional photographer and a keepsake photo holiday card this season. Each family received a holiday photo card memento that can be displayed in their home for years to come.
Trevor Muhler, from Trevor Muhler Photography, LLC, donated his time and talent to capture a photo of each family. Urbanity Studios, a local stationery design studio, donated the printed, holiday keepsake card for all participating families.
Pictures were taken on December 5, 2012 and Fox 13 News was on-hand documenting the event.View the great footage and see what one family had to say.
Head Start is a comprehensive early childhood development program serving low-income children from birth to five years of age and their families. Salt Lake CAP Head Start is a Federal program that is operated by Salt Lake Community Action Program (CAP). Children who attend Head Start participate in a variety of educational activities including literacy, language, science, social-emotional, and much more. They also receive medical and dental services, have healthy meals and snacks, and enjoy playing safely indoors and outdoors. The mission of Salt Lake CAP Head Start is to provide health, education and promote self-sufficiency to children and families facing adversity.
Trevor Muhler Photography is a commercial photography company, with over fourteen years experience. The company specializes in architecture, product and corporate needs - including corporate events, annual reports and executive portraits.
Urbanity Studios is an online stationery design studio offering invitations for life's events. Urbanity Studios offers unique wedding invitations, birthday invitations and personalized stationery. The company offers high quality products at budget friendly prices, exceptional customer service and a 100% satisfaction guarantee. Urbanity Studios specializes in making you look fabulous on paper.