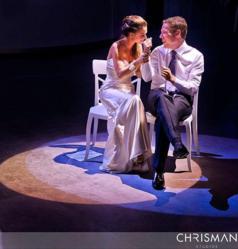 "Photos can capture any moment of love" BrideBox Valentine's Day Show Your Love Photo Competition
Palo Alto, CA (PRWEB) December 19, 2012
Hosted on the Bridebox Facebook page, the photo competition allows brides, grooms and anyone with a spectacular photo of true love to compete and vote in this unique competition. The winners will be announced Valentine's Day, February 14, 2013.
The top winner will selected publicly by Facebook users, and a second winner will be chosen by a panel of professional photographers.
BrideBox wedding albums, previously available only through professional photographers, are now offered directly to brides for big price savings without compromising quality. The "Show Your Love" photo competition is open to all members of the public worldwide with one condition; the photo that a participant enters must be of him or herself.
"You think you know love? Then share it with the world for Valentine's Day," says Liz Challice, Bridebox social media manager. "Photos can capture any moment of love: the moment he proposed, tears of joy walking down the aisle, or an ordinary day when looking deep into each other's eyes with utter and complete happiness."
The grand prize Facebook photo winner will receive the BrideBox Anza 30 Flush Mount Leather Wedding Album 10x10 (retail $370).
Our photographer's choice winner will receive a Mason wedding book 10x10 (retail $104.99).
The winners will be announced on Valentine's Day, February 14, 2013, on the Bridebox Facebook Page and Blog.
Competition entry rules are available on the BrideBox Wedding Blog.
About BrideBox
BrideBox is devoted to helping couples design their own wedding albums without sacrificing the top quality materials and photo finishing that mark a professionally produced album. BrideBox combines years of wedding photography expertise and a proprietary process that gives consumers access to products previously only available through photography professionals. The BrideBox line of wedding albums offers unmatched quality, combining the benefits of technology with the skills and individual attention of imaging professionals. BrideBox is a division of DigiLabs, Inc., a privately-held company that creates superior photo products available through professional photographers. For more information, go to BrideBox.com.
# # #