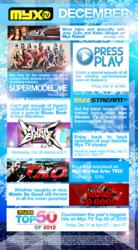 Creating Myx Stream TV combines all my passions for creating cutting edge content, new media, and a talk show for people of color to have a voice.
Redwood City, CA (PRWEB) December 17, 2012
In 2012, Asian American network, Myx TV, brought daring shows, new seasons, and the best undiscovered artists to more cities around the United States, reaching 10 million households with entertainment unlike any other. Reliving the biggest and brightest moments of 2012, the network brings back-to-back yearend specials. On the forefront of technology and radical content, Myx TV leads the line up with a special premiere of Myx Stream TV, a sharp-witted, no holds barred talk show, airing on December 17, at 8pm/7c.
The boom of Asian online celebrities catapulted the network to lead in entertainment innovations. Myx Stream TV is the first online show for Asian Americans where nothing is off limits. Blog TV celebrity Phil Chao hosts the talk show featuring Julia Rhee of Retrofit Republic, conservative blogger Harvey Rañola, and PopStop TV Network host XiXi Yang in 30 minutes of uncensored chat on hot topics and celebrity gossip. Join the hangout as they discuss the increasing political influence of 18 million Asian American voters, the most watched YouTube video of Psy's Gangnam Style, and the wins and woes of interracial dating.
"Creating Myx Stream TV combines all my passions for creating cutting edge content, new media, and a talk show for people of color to have a voice," said Anthony Garcia, Head of Production for Myx TV. "I see this show similar to Barbara Walter's The View, but with more diversity and edge."
The holidays are jam-packed on Myx TV where your favorite shows air back-to-back. On December 21, catch the Myx TV Top 50 of 2012 at 4pm ET/1pm PT and all of Press Play Season 2's breakout artists – Johnny Hi-Fi, Alex Carbonel, Onfire Ent, Radio for the People, All The Right Moves, and Jake Miller. Don't miss the best of independent music at 9pm ET.
Martial arts get entertaining and gruesome with Movie So Good and Myx Martial Arts: TKO where the fight scenes are hard-hitting and better than reality.
MYX-Rated Mondays take you through the most hilarious challenges with comedian Joey Guila and models Keiko Alingas and Nicole Blades. And on SupermodelMe, the statuesque beauties get catty and bratty for the ramp and camera as they compete for supermodel stardom. Take a peek into the real world of fashion and modeling where the women put their glam, allure, and killer instinct on the bare.
And to continue the holiday festivities, tune into Music Bank where the K-Pop fever gets temperatures rising with dance tunes and dance moves for hours.
Myx TV has it all. For exclusive webisodes and local cable listings in the city where you live, visit http://www.myx.tv.
##
ABOUT Myx TV®:
Myx TV is the fastest-growing Asian American entertainment and lifestyle cable network in the United States. Dedicated to airing the best in entertainment, Myx TV's programming is a unique combination of original and syndicated shows, including reality, live music performances, animation, and independent film and Asian cinema, airing 24/7 in English. Broadcast in over 10 million households across the country it provides a platform for Asian Americans on mainstream television and is also represented on its official website by a community of bloggers from coast-to-coast. To find Myx TV in your area and for exclusive content online, visit http://www.myx.tv.
MEDIA ASSET:
TV Commercial: http://www.youtube.com/watch?v=If0SHKFPm_c