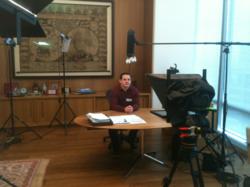 "Our clients appreciate the freedom from memorizing long and complex reads, and the ability to edit copy in real-time has changed the way we can think about scripting." - Mark R. Smith - Absolute Vision
Chicago, IL (PRWEB) December 18, 2012
Absolute Vision Productions, a Chicago-based media and production company, announced today an upgrade to teleprompter services for corporate and commercial clients. Designed with the needs of executives and business operators in mind, Absolute has made it even easier for companies to convey their message on camera.
Absolute's upgraded package now includes a refreshed Autocue prompting system, real-time script editing, faster setup time, and included crew and teleprompter operators (by request). The refreshed system also now works for both stand-alone teleprompter rental, as well as in conjunction with Absolute's standard and custom production packages. As with all Absolute production services, the enhanced teleprompter is available for the local Chicago area, as well as general midwestern region.
"Teleprompting is vital to get right - an audience immediately notices the difference." said Mark R. Smith, owner and creative lead for Absolute. "Our clients appreciate the freedom from memorizing long and complex reads, and the ability to edit copy in real-time has changed the way we can think about scripting."
Absolute's current clientele for teleprompter services includes high-profile CEOs, VPs, and international agents, as well as setups for quarterly meetings, shareholder messages, and in-office production. In addition to similar packages including media training, "talking head" video production, mock interviews, and corporate branding, today's announcement continues Absolute Vision's place on the forefront of Chicago's media production community.
Absolute is including upgraded teleprompter as part of its media packages starting today, including short-notice and time-sensitive requests. For more information about Absolute Vision's teleprompter or production services, please email Mark(at)AbsoluteVisionProductions(dot)com.
About Absolute Vision Productions:
Absolute Vision Productions is a Chicago-based media and production company. Whether for agency-style media, professional video production, local production crew, or general marketing and advertising, Absolute offers national-level experience with local connections and know-how for corporate, industrial, commercial, and creative purposes. To learn more, visit http://www.AbsoluteVisionProductions.com.