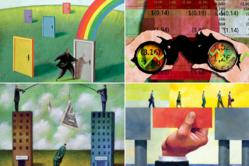 We are proud to represent such talented artists. As always, our success this year was a true team effort
New York, New York (PRWEB) December 19, 2012
Illustration Source, a leading provider of high quality stock illustrations to art buyers everywhere, has released its list of the 100 top selling illustrations for 2012.
The images can be viewed here.
Artists on this list include Bruno Budrovic, Art Valero, Roy Scott, Dave Cutler, David Ridley, Rob Colvin and James Yang
According to Laura Daly, Manager of Artist Relations at Illustration Source, "We are proud to represent such talented artists. As always, our success this year was a true team effort".
About The Company
Illustration Source is a leading provider of high quality illustrations from the finest illustrators from all over the world. Illustration Source's collections provide top quality, cutting edge illustration.
In addition to a 20-year reputation in stock illustration licensing, Illustration Source now exclusively represents a select group of artists for assignment projects through its Original Art Studios.
SIS was founded in 1992. Illustration Source took over the business of SIS in 2010. The company is New York based and privately held. One of the major reasons for the success of the SIS collection through the years is its ability to gather a true international artistic community in which many of the artists and art buyers enjoy a congenial, creative and profitable relationship.