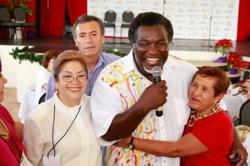 Cancun, Quintana Roo (PRWEB) December 18, 2012
The Golden Years club celebrated its most expected party of the year: The third Stars for Nature Contest. This year theme was Teachings for a New ERA. More than 150 members of the Club and special guests like the actor Otto Sirgo, actresses Raquel Olmedo, Lucero Lander and singer Barry Ivan White enthusiastically participated in the event.
The Moonlight Theater at the Sunset Royal Beach Resort was the setting for the encounter that brought together the members of this senior's club, founded more than 10 years ago by Sunset World Resorts and Vacation Experiences. This anticipated contest of cultural and artistic talents included four categories this year: poetry, singing, storytelling and musical theater.
The panel of judges was formed by the guests actors invited by Fundación Televisa and the airline Volaris, as well as Annie Arroyo, Brand and Communications Director at Sunset World, and Ricardo Calderón from Fundación Televisa. The judges awarded third place winners, as well as selected finalists in each category. These finalists will go on to compete further in a Facebook/Sunset World contest, in which the public will vote for their favorite video between December 19th and January 13th to determine the first and second place winners.
Leonor Jiménez was the third place winner in the poetry category, and the finalists were Paquita Ballester and Amelia Arredondo. In the category of singing, third place was awarded to the group Vive Feliz and the selected finalists were the bands Digan lo que Digan and Sueño Imposible.
In storytelling, the third prize went to the Sixto Rodríguez' team: Rosario Poncelis, Aurora Trinidad, José Méndez, Hilda Gómez and Teodoro González. The finalist were the teams composed of Socorro González, Enriqueta Martínez, Eduardom Garduño and Soledad Sarabia; as well as that of Ramona Mendoza, Josefina Martínez, Estela Díaz, Antonia Magaña, Agustín Saavedra and Graciela Navarro.