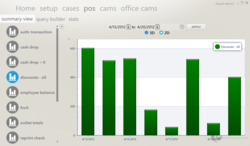 I never had a tool find internal theft so easily...
Las Vegas, Nevada (PRWEB) December 17, 2012
Exception-based reporting is a really powerful tool for business owners to leverage, especially with the amount of POS transactions that occur on a daily basis. The ability to see when employees are accessing POS functions like discounts, voids, open items and no sales are essential in limiting financial loss in any store front. While these tools have been available for many years, they have lacked visual verification elements like video which helps management understand the cause of the POS exception.
New technology, like the software produced by eConnect is taking exception-based-reporting to a whole new level. Their system is designed to look further into the behavior of the employees by understanding how they measure up against their peers. This allows management to quickly identify employees who stand out in their organization leading them to evaluate those people more closely. eConnect also uses surveillance video to show the store manager what action led up to the exception and provides the right evidence so they can make a business decision quickly.
"In all my years as a loss prevention professional, I never had a tool find internal theft so easily." Commented, Robert Conde- Casino Surveillance Executive "There is nothing in the market that I have found to uncover this much employee theft and error."
About eConnect:
eConnect is a software company in the security industry, which provides financial transactional analysis with visual verification. This is accomplished by synchronizing transactional data from point-of-sale (POS), casino systems and games to digital video surveillance, producing the best fraud deterrence tool in the industry. The software tool also increases the effectiveness of employee productivity, allowing managers to easily identify common employee errors. The software provides a dramatic return on investment usually within 3 to 6 months.