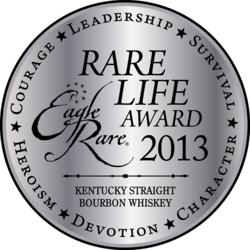 We encourage the public to continue to vote for the story that inspires them the most at www.eaglerarelife.com. We look forward to announcing finalists and the grand prize winner next February
Frankfort, Franklin County, KY (PRWEB) December 18, 2012
Eagle Rare Single Barrel Bourbon Whiskey today announced the top 20 nominees for its 2013 Rare Life Award.
This award, now in its third year, recognizes those whose lives embody Eagle Rare's passion for excellence and demonstrate the epitome of key characteristics: courage, leadership, survival, heroism, devotion and character. Since nominations and voting began in May of this year, 142 stories have been nominated and those nominees have received 320,725 votes thus far through Eagle Rare's website at http://www.eaglerarelife.com. The Grand Prize award winner will be awarded a $30,000 donation to the charity of their choice. In addition, six others will be selected and awarded $3,000 to the charity of their choice. The total prize pool has been tripled since the award was initiated. Those top nominees, who have received the most votes thus far, are:
Al Cecere Lakewood, TN
Amanda Charney Eagleville, NJ
Anna Cannan Arlington Heights, MN
Christy Broady Greenfield, IN
Dana Nelson Mechanicsville, VA
Dr. Peter Sharpe Havana, CA
Evelyn Flengas Virginia Beach , VA
Julie Genser Parker, AZ
Keith P. Taylor New York, NY
Kenny Allred Hendersonville, TN
Mac McQuown Manchester, NH
Maggie Harrison Astoria, NY
Matt Kerner Louisville, KY
Phil Taylor Carrollton, TX
Rachel Reynolds Ashland, VA
Shannon Henn Dallas, CO
Stacy Ann Lewis Deltona, FL
Stephen Wampler San Diego, CA
Tim Miller Milton, TX
Tonya M. Evans Indianapolis, IN
At the end of the voting, seven finalists will be selected from the top 20 nominees that receive votes. One of those seven finalists will be chosen as the Grand Prize 2013 Rare Life Award winner, which will be announced in early February 2013.
Kris Comstock, Eagle Rare brand manager said, "We continue to be amazed at the number of inspirational rare lives that have been nominated. They all are to be saluted for the positive impact they have on the lives of others. We encourage the public to continue to vote for the story that inspires them the most at http://www.eaglerarelife.com. We look forward to announcing finalists and the grand prize winner next February."
Entries are now posted at the Eagle Rare website online and the general public can continue to vote on who they think most embodies the "Rare Life" core values through January 4, 2013. Winners will be chosen from the top 20 stories that have received the most votes and announced in early February 2013.
About Eagle Rare Bourbon
Eagle Rare Single Barrel Bourbon Whiskey is part of the award-winning Buffalo Trace Distillery, a family-owned company based in Frankfort, (Franklin County), Kentucky. The Distillery's rich distilling tradition dates back to 1787 and includes such legends as E.H. Taylor, Jr., George T. Stagg, Albert B. Blanton, Orville Schupp, and Elmer T. Lee. Eagle Rare Bourbon is a 10-year-old single barrel bourbon that has won multiple awards, including five double gold medals from the San Francisco World Spirits Competition. To learn more about Eagle Rare visit http://www.eaglerarelife.com.