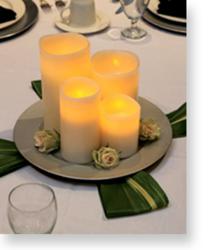 Minneapolis, MN (PRWEB) December 17, 2012
As the holidays approach, many shoppers will find their carefully calculated gift budget blown to smithereens. Too often, we are persuaded to buy gifts out of convenience. The true value of the components used to make the gift is often not even thought about until it is too late. Many times, a gift that is purchased in a high end department store or specialty retailer could be made at home for a fraction of the price, using supplies that can last for a long time.
Flameless LED candles from Smart Candle are one item that can easily be constructed into a holiday gift and will last for many years to come. Smart Candle offers flameless LED candles in many sizes and shapes, allowing you to make decorative holiday items in any size you'd like. Most LED candles use battery power to give the candle the look of being lit.
As an example, Pottery Barn offers an oversize Mason jar which is shown online and in their catalog with a flameless candle, twigs, or Christmas string lights. This jar costs $49.00 without any filler items, which can be purchased separately from the site. For example, small pieces of birch tree intended to fill the jar or a vase are an additional 14.50. Instead of buying this, crafty types can recycle a jar or purchase one at a dollar store and place a flameless candle inside with real pine cones, twigs, or birch pieces, making the total cost of the gift half of the one from Pottery Barn.
In addition to LED flameless candles, Smart Candle also offers accent lighting and candle lamps, all battery-powered for efficiency and safety. These candles have been proven to be safer and more cost effective than traditional candles.