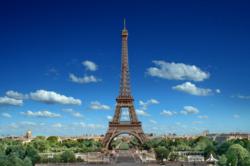 "Support the writer's craft by buying books," says Worden.
Denver, Colorado (PRWEB) December 18, 2012
This holiday season, for the writer who has been nice (not naughty – those writers have been reading "Fifty Shades of Grey") the Left Bank Writers Retreat is the perfect gift. Slated for June 16 – 21, 2013, in Paris, France, the small group retreat, now in its fifth year, is hosted by writer Darla Worden, and follows in the footsteps of Ernest Hemingway with morning writing workshops and afternoons touring Paris.
"Writers at every level enjoy this retreat," Worden says. "We combine a salon-style writer's workshop with an exploration of Paris's deep literary roots while also experiencing the city's legendary sights, restaurants and museums."
Tuition for the six-day Left Bank Writers Retreat is $1,999 and includes morning writing sessions, coaching and one-on-one time with the instructor for a maximum of 8 writers, as well as lunch each day, admission to museums and area sights, an excursion to Montmartre, a picnic on the banks of the Seine and a literary tour that visits many of the sites featured in Woody Allen's popular movie "Midnight in Paris."
Drawing on her firsthand experiences with writers through hosting her annual Paris workshop, Worden offers some additional gift suggestions guaranteed to bring a smile even to the most jaded, cynical, holiday-hating Grinch of a writer:
Support the Writer's Almanac: Give CDs, DVDs and apparel themed to NPR's Writer's Almanac with proceeds supporting NPR programming. Don't miss host Garrison Keillor's "A Christmas Blizzard," the Funniest Driveway Moments Gift Set, or the sure-to-please Seasons One and Two of "Downton Abbey."
An iPad Stylus: Forget fountain pens (old school), fumbling fingers everywhere will appreciate a cool stylus as the solution to texting typos. The top-rated HAND stylus is the way to go, with its retractable rubber nib and a magnet to secure it to the iPad cover.
Books: "It may seem obvious, but you really can't go wrong with old-fashioned books (or e-books) for writers," says Worden. "Support the writer's craft by buying books, and while you're at it why not support your local bookstore? In Denver we love The Tattered Cover."
A Vintage Underwood typewriter: Every writer covets this iconic writer's tool that once inspired Ernest Hemingway to write, "There is nothing to writing. All you do is sit down at a typewriter and bleed."
Company Information: Now in its fifth year, the Left Bank Writers Retreat takes place on historic Île Saint-Louis in the heart of Paris. Writers arrange their own lodging and transportation to Paris, and can reserve a spot in the 2013 retreat with a $500 deposit. For additional information, visit http://www.leftbankwriters.com or Facebook, or email darla(at)wordenpr.com.
Media Contact: Darla Worden, WordenGroup Public Relations, darla(at)wordenpr.com, 303.777.0635