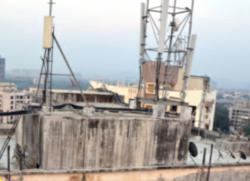 Commercial rooftops are not what they use to be... their environment is awash with potentially hazardous RF waves.
Greenville, NC (PRWEB) December 18, 2012
Companies with workers who carry out any part of their job on commercial rooftops should be aware of the hazards these workers face, the education necessary to keep them safe, and minimize company liability. The expense and hassle of providing valued employees with OSHA compliant rooftop radio frequency (RF) safety hazards training is minimized with a new course from LBA University®.
Commercial rooftops are not what they use to be. Today with cellular towers, satellite dishes, and in-building antennas in close proximity to rooftop workers, their environment is awash with potentially hazardous RF waves. Companies that provide commercial window washing, roof repair and installation and rooftop HVAC service are among just a few of the service sectors that should be concerned about the safety of their workers and their compliance with OSHA standards when it comes to exposure to RF hazards.
A new, first of its kind, online safety course has been developed by LBA University® to help deal with the dangers. The OSHA Rooftop Worker RF Awareness training course is an economical and fully interactive learning experience that workers can pursue outside regular working hours. Course information is available at: http://www.lbagroup.com/associates/rftraining.php.
The need for RF awareness is a growing almost exponentially. Upwards of 250,000 cellular telephone antennas are bouncing signals around the U.S., according to TowerSource. And now, the proliferation of in-building DAS distributed antenna systems in increasingly sophisticated building environments is bringing a new dimension of concern about RF exposure.
LBA University® is offering the course at group rates so entire work crews can earn individual certificates and pursue their tasks with RF awareness. A certificate is renewable annually to ensure a worker remains compliant with OSHA practices. The course structure lets employer safety compliance managers to track training of workers; onsite training also is available.
The instruction is directed by Chris Horne, PhD, P.E. an experienced RF and wireless industry engineer and rising leader in the industry. He is Chief Technical Officer of the LBA Group, which has provided RF services to the industry since 1963. LBA University® is the training and educational division of LBA Group Inc.
The course is available in English and Spanish. Sign-up is through a convenient online portal through which students have ready access to training materials and certificate information.
The course is also offered on-site at a company's location, or arrangements can be made for students to take the course at LBA's campus in Greenville, N.C. For more information on having an LBA University® instructor present the course, contact Bryan Dixon at bryan.dixon(at)lbagroup(dot)com.
About LBA Group Inc.
LBA Group, Inc. has 50 years of experience in providing electromagnetic protection for industrial and telecommunications infrastructure assets. It is comprised of LBA Technology, Inc., a leading manufacturer and integrator of radio frequency systems, lightning protection, and EMC equipment for broadcast, industrial, and government users worldwide; the professional engineering consultancy Lawrence Behr Associates, Inc.; and LBA University, Inc. providing on-site and online professional training. The companies are based in Greenville, N.C., USA.