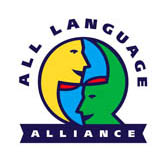 By adding a human touch to our language translation site, people can see that we're nothing like those machine-based translation services that tend to make costly mistakes
Denver, CO (PRWEB) December 19, 2012
Professional language translation company All Language Alliance, Inc., based in Denver, Colorado, has decided to harness the full power of the world wide web in order to help its clients. The company just unveiled a new web design that is chock full of new features.
The biggest reason for the changes?
To stand apart from the automated translation services that have become so prevalent out on the web.
All Language Alliance's legal and corporate clients can now get a more "human touch" – by learning more about the languages that their employees deal with, connecting with the company through social media, and getting in touch with language translation experts 24/7 – all with the click of a mouse.
"Our corporate translation service has had a website for years, but since we deal with so many professional clients – like lawyers, doctors, and a variety of other business owners who use the web on a daily basis – we felt like it was time to really start focusing on the website itself," said Nina Ivanichvili, All Language Alliance's CEO. "By adding a human touch to our language translation site, people can see that we're nothing like those machine-based translation services that tend to make costly mistakes."
In addition to the social media and contact form changes, visitors to All Language Alliance Inc.'s language translation website will see that the company has added 24 new language translation pages for Thai, Hebrew, Turkish, Korean, Japanese, Burmese, Indonesian, Greek, Portuguese, Italian, Polish, Arabic, and other foreign languages. Each of those pages gives a detailed explanation of the language itself (including grammatical and historical details), a lesson on the business etiquette in places where the foreign language is spoken, and specific translation tips so that everyone involved feels completely comfortable with the finished product.
The new All Language Alliance, Inc.'s website also features service-specific certified translation pages – including medical translation, corporate translation, medical interpreting, technical translation, and legal translation services.
"Since those specialized translation services can be so tough to find – and have absolutely no room for error – we wanted to make sure they were front-and-center on the new language translation site," explained Ivanichvili.
All Language Alliance, Inc. has hundreds of translators that specialize in more than 100 different languages, make of which are exotic for the US. For more information or to request a free quote, log onto http://www.languagealliance.com.