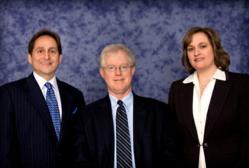 [My attorney was] extremely knowledgeable in the divorce field; he has been extremely patient with me during my case. All the services this firm provides are top-notch.
Washington, DC (PRWEB) December 25, 2012
Follow Media Consulting, Inc. today announced it had signed up Leiser, Leiser & Hennessy PLLC. in the category of Personal Injury Lawyer Virginia and Personal Injury Lawyer Fairfax, VA. You can call them at (703) 734-5000.
Founded in 2000, the law firm of Leiser, Leiser & Hennessy, PLLC has grown into a practice consisting of seven attorneys and five staff members dedicated to helping clients solve their legal problems. Phillip B. Leiser, Esq., the owner of the firm, began his practice giving special attention to the rights of crime victims – standing up for those who have been victimized, by pursuing civil claims on their behalf in the Virginia courts. Joined by six other skilled attorneys with diverse legal experience, Leiser, Leiser & Hennessy, PLLC has a thriving practice in the areas of Family Law, Personal Injury & Medical Malpractice, Employment Law, Criminal & Traffic Defense, Appellate Practice, Consumer & Contract Law, Business Litigation, Expungements, Wills and Estates, and a wide variety of other civil litigation.
LLH has attorneys who are licensed in Virginia, the District of Columbia, and Florida. Their office is conveniently located in Tyson's Corner, Virginia, and they routinely represent clients in state and federal courts throughout the Commonwealth and Washington D.C., as well as administrative agencies such as the Virginia Employment Commission, the Department of Health Professions, and local school boards. Their firm covers a wide range of legal matters which includes traffic defense, personal injury and employment law.
About Follow Media Consulting, Inc.
Named one of the best SEO companies by Jonas Marketing, Follow Media Consulting, Inc. is a rapidly growing worldwide firm of SEO, Social Media, and Mobile Marketing Professionals. Follow Media Consulting, Inc. headquarters is located in Richmond, VA. However, our professional team is networked across the world, with regional offices across the United States, in the United Kingdom, Canada, Australia, France, South Africa, the Philippines, and India.