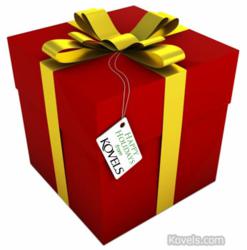 Cleveland, OH (PRWEB) December 18, 2012
Terry Kovel, author of "Kovels' Antiques & Collectibles Price Guide," says: "It's very difficult to buy a piece for someone's collection. Buy something to help collectors when they shop at a flea market or show." If you don't understand much about the collection of mechanical banks, paperweights, or toys prized by the collector on your gift list, here are some helpful ideas:
1. A small magnifying-glass pendant that can be worn on a chain will delight a collector looking at hallmarks on silver or identifying names on pottery. Many maker's marks are very small and often impossible to read in a dingy corner of a shop.
2. Does the collector on your list go to flea markets or shows that are far away? Think about a GPS device to help with directions, or an app that helps locate a car in a huge unmarked parking lot.
3. Everyone needs a small flashlight to closely examine antiques and collectibles. There are many small and very bright lights on the market, some that look like credit cards and some that are on a keychain. Both are small enough to keep handy in a pocket or purse.
4. Help a collector learn what's selling these days by giving a subscription to a collector newsletter like "Kovels on Antiques and Collectibles" or to one of the many collector newspapers, magazines, or newsletters published by a collector club and devoted to a special collection. Find many listed in the Kovels.com Online Directory.
5. Best of all, give the best-known book of prices for average collectors, "Kovels' Antiques & Collectibles Price Guide."
One last suggestion: Put a dollar bill in the package with any gift you give, along with a reminder that the bill makes a perfect 6-inch ruler.
Terry Kovel, well-known columnist and author, gives information and advice on collecting. She will discuss antiques and collectibles topics with accredited media. Photographs are available. Contact pr(at)kovels(dot)com.
About Kovels.com
The online website, Kovels.com, created and managed by Terry Kovel and Kim Kovel, provides collectors and researchers with up-to-date and accurate information on antiques and collectibles. Kovels' Antiques was founded in 1953 by Terry Kovel and her late husband, Ralph. Since then, Kovels' Antiques has continually published some of America's most popular books and articles about antiques, including the best-selling "Kovels' Antiques and Collectibles Price Guide," now in its 45th edition. The Kovels' website, online since 1998, and free weekly email, "Kovels Komments," give readers a bird's-eye view of the market through up-to-date news, auction reports, an online Price Guide, a Marks Dictionary, readers' questions with Kovels' answers and much more.
Contact Information:
Liz Lillis
216.752.2252
Pr(at)kovels(dot)com