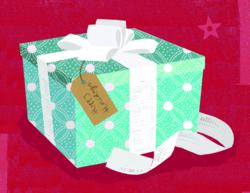 "Don't assume you can bring an item back to the store if you're not satisfied," said Lisa Lee Freeman, editor-in-chief of ShopSmart. "Familiarize yourself with a retailer's return policy and remember that they vary greatly among stores."
YONKERS, NY (PRWEB) December 18, 2012
Returns are bound to happen, especially around the holidays. To make the process as pain-free as possible, the January 2013 issue of ShopSmart magazine, the quick and easy guide from Consumer Reports, has identified pitfalls shoppers should steer clear of so they don't get stuck with unwanted items. The report also names four free apps that can organize paper and digital receipts, making returns quicker and easier.
"Don't assume you can bring an item back to the store if you're not satisfied," said Lisa Lee Freeman, editor-in-chief of ShopSmart. "Familiarize yourself with a retailer's return policy and remember that they vary greatly among stores."
Don't end up with unwanted purchases – beware of these five gotchas:
1. Not all stores take back online purchases. Ann Taylor won't take back swimwear, extended calf-boots, or "wedding and events" clothing in-store; and Sports Authority won't take any online purchases back in its stores. Some items at OldNavy.com (and sister sites Gap.com and BananaRepupublic.com) are "Return by Mail Only," so read online return policies before buying.
2. Some gift cards aren't returnable. Apple, Kenneth Cole, and other stores ban gift card returns. Nordstrom, known for its open-ended return policy won't take back gift cards. Bloomingdales will, but there's a catch – money is refunded to the purchaser's credit card.
3. No gift-receipt could mean no return. Williams-Sonoma won't take a gift back without a receipt unless it's defective. Bloomingdale's only gives credit for the lowest selling price in the past three-months for receipt-less gift returns.
4. Shoppers may be stuck with outlet items. The Land of Nod, Crate & Barrel, and others won't accept items bought at their outlets.
5. Beware of restocking fees. Amazon, for example, takes 20 percent for unopened media items and nonmedia items 30 days or more after delivery. Sears charges a 15 percent restocking fee for electronics without their packaging or accessories.
There are apps that can help shoppers get organized in so many ways – including returns. ShopSmart highlights four free apps that can speed up and simplify the process (and all work on Android and Apple devices):

Lemon provides an @lemon.com address for users who don't want to share their personal e-mail for digital receipts. Digital receipts, along with pictures of paper ones, can be stored in the app and easily accessed for returns.
ReturnGuru allows users to snap photos of their receipts and sends them a reminder before the return deadline comes.
Neat works with the NeatCloud service (30-day free trial, then $6 a month or a discounted $60 a year) to turn a user's phone into a digital filing system. Use it to scan receipts and eliminate the paper-receipt jungle.
Slice gathers online receipts when users grant the app access to the e-mail they use for purchases. It also links return policies and provides customer-service numbers for participating retailers.
The full report on returns can be found in the January 2013 issue of ShopSmart, on newsstands now and online at http://www.ConsumerReports.org. It also features the latest trends in the return process (such as digital receipts and receipt lookup), a list of good return policies (and the companies that practice them) and ten retailers who refund online returns the fastest.
About Consumer Reports:
Consumer Reports is the world's largest independent product-testing organization. Using its more than 50 labs, auto test center, and survey research center, the nonprofit rates thousands of products and services annually. Founded in 1936, Consumer Reports has over 8 million subscribers to its magazine, website, and other publications. Its advocacy division, Consumers Union, works for health reform, food and product safety, financial reform, and other consumer issues in Washington, D.C., the states, and in the marketplace.
About ShopSmart magazine:
Launched in Fall 2006 by Consumer Reports, ShopSmart draws upon the publication's celebrated tradition of accepting no advertisements and providing unbiased product reviews. ShopSmart features product reviews, shopping tips on how to get the most out of products and "best of the best" lists. It's ideal for busy shoppers who place a premium on time. ShopSmart has a newsstand price of $4.99 and is available nationwide at major retailers including Barnes & Noble, Wal-Mart, Borders, Kroger, Safeway and Publix. ShopSmart is available by subscription at http://www.ShopSmartmag.org.
ShopSmart is available 10 times a year. Subscribe at http://www.ShopSmartmag.org.
# # #