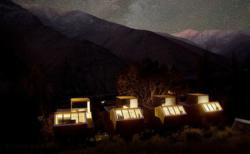 Say no to brand-name hotel chains and resorts. Say yes to handpicked vacation accommodations with a sense of adventure.
Berlin, Germany (PRWEB) December 18, 2012
Escape the daily routine with Hand-picked paradise, the new travel blog from Welcome Beyond. Get inspired by a collection of the finest vacation ideas to daydream about and to share with friends. Follow exclusive contributions from around the world covering travel literature, trends, design, architecture and other indispensable travel-related tidbits worth sharing.
Hand-picked paradise makes it easy to discover dying-to-get-there travel destinations, authentic local attractions, incredible culinary experiences as well as beautifully designed and tastefully furnished hotels and home rentals around the world. Hand-picked paradise also presents beautiful travel accessories (some more functional, some just beautiful) to accompany travelers on their journeys which will definitely be worth writing home about.
Don't miss announcements of new boutique hotels and villa rentals on Welcome Beyond, special offers for any budget or late availabilities for a short-term take-off. Be it a family vacation, romantic getaway, city break or beach vacation: Hand-picked paradise will take any traveler beyond the expected to discover what really matters in a vacation and in our lives.
To get your fix of travel ideas just visit Hand-picked paradise, Welcome Beyond's new travel blog.
About Welcome Beyond
Welcome Beyond is a carefully curated collection of the most beautiful small boutique hotels and vacation rentals in Italy, Spain, France and further afield in Europe, Asia and the Americas.
The collection focuses on quality, authenticity and character and targets style-conscious travelers who regard shelter as a meaningful part of their vacation experience. Think mirrored cubes scattered around the Norwegian wilderness, airy white villas in Santorini, old-money estates in France and Italy or a medieval watchtower turned into a contemporary retreat — all of them artfully decorated by owners who are passionate about creating a unique and restful experience for their guests.
Welcome Beyond takes away the hassle of browsing through hundreds of sites to find a truly memorable vacation and has been recommended by The New York Times, The Guardian, Elle Magazine, Vogue and many others.
For more information about Welcome Beyond visit: Welcome Beyond