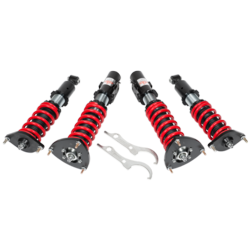 Test fitment and road testing was done over several months to ensure that the spring and damping rates are appropriate, ensuring a stiffer but comfortable ride quality over stock
Riverton, UT (PRWEB) December 17, 2012
Raceland today announced pre-orders of its Infiniti G35 coilovers. Supplies are limited and customers who purchase now will have their orders shipped around the second week of February. The new Raceland fully threaded coilovers are designed to give G35 owners the ability to lower the ride height of their cars without compromising ride quality. With an independent lower spindle mount perch, owners can adjust the ride height of their cars one to three inches below the stock ride height to fit the tastes of those who like a mild drop to those who want a more aggressive drop. Test fitment and road testing was also done over the course of several months to ensure the spring and damping rates are appropriate, providing a stiffer but comfortable ride quality over stock.
Raceland's new multi-adjustable G35 coilovers offer owners the ability to adjust ride height through use of adjustable hub mounts to ensure that proper spring preload and shock travel are not compromised. What that means is that the dampers are going to last and the ride quality will be exceptional.
Other adjustments include adjustable front camber and spring pre-load. These adjustments allow each G35 owner to tune their suspension to their liking and for the purpose the vehicle is used for. To sweeten the deal even further, Raceland also offers a 2 year warranty to ensure that the G35 coilovers are free from defect.
Raceland's new G35 coilovers are only $469.00 and are available for all 2003-2007 G35 models. For more information on this coilover kit and other Raceland products, visit http://www.raceland.com.
Features
High quality solid pillow ball mounts.
Adjustable front camber plates.
Spring pre-load adjustment.
Independent ride height adjustment.
Spring rates: Front 700 lbs/inch (12kg), Rear 305 lbs/inch (5.5kg).