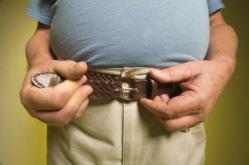 ...my overriding philosophy is to use healthy, whole natural foods to satisfy hunger.
Austin, Texas (PRWEB) December 20, 2012
Michelle Obama's "Let's Move" program is a great first step and shines a bright light on an overwhelming problem. By 2030, according to Reuters, 50% of Americans will be Obese (article title: "Fat and getting fatter: U.S. obesity rates to soar by 2030"). HistoWiki.com curator Clint Evans and his co-author "E. Calvin Barber II say in their new Kindle book, "Get Down to 150," reversing the obesity epidemic and trend is about more than just moving around. Nutrition is 80% to 85% of the battle.
As noted at the HistoWiki "History of Obesity page, Obesity costs the average man an extra $2,646 per year and the average woman an extra $4,879 on average. According to a 2010 study, direct obesity related medical expenses in America are $160 billion per year. The estimated indirect costs? $450 billion.
And while being overweight can be a financial problem, what stops most people making lifestyle changes promoted by the "Let's Move" program can be indulging cravings instead of actual hunger. Evans says "Calvin and my overriding philosophy is to use healthy, whole natural foods to satisfy hunger. It's not about diets because many studies have proven diets don't work (according to WebMD article: "Diets Don't Work Long-Term"). Instead, it's about satisfying those cravings that often derail so many diets and cause the phenomenon of "Yo-Yo dieting".
To help those grappling with obesity, Evans and Barber are unveiling a limited 1 day "book promotion is a Christmas gift for the Kindle book "Get Down to 150".
"It's our way of giving an early Christmas present to overweight and obese sufferers everywhere. There are lots of reasons why people are overweight. We don't shy away from controversial topics like whether dairy is the right way to go for weight loss or bone thinning issues. The reasons why, what happens by staying in the same behavior and what happens by making a healthy shift, as well as the how-to lose weight are covered in the book," says Evans. The authors are hoping to tap into that spirit of Christmas to give away a day's worth of copies.
HistoWiki.com's mission is to the leading social media curation forum for innovative content leaders examine and archive their topics of expertise and passionate interests. For more information about Obesity, call Evans at (512) 508-8935 or contact him via his "Clint Evans Google Plus profile. In addition to being an author, Clint Evans and E. Calvin Barber II are involved in consulting, publishing, coaching, and community service to help decrease obesity and childhood obesity.