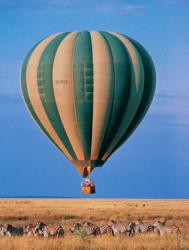 HELENA, Ala. (PRWEB) December 19, 2012
As modern explorers increasingly crave travel experiences that that offer under-the-radar appeal, active excursions and authentic connections to the local culture, "bucket list" activities are also trending toward more adventurous and exotic options. While the demand for experiential travel grows — the Adventure Travel Trade Association reports that 26% of travelers engage in adventure activities on vacation — so does the demand for brag-worthy and immersive excursions.
For intrepid travelers looking for a "life list" Sherpa, respected adventure travel companies International Expeditions, Country Walkers and Quark bring decades of expertise and make it possible to fulfill "bucket list" experiences. Here are four suggestions for 2013's top once-in-a-lifetime adventure options.
Snorkel with sea lions, penguins and sharks...all at the same time
During International Expeditions' Galapagos Islands cruise, travelers enjoy a singular opportunity to snorkel with curious and engaging marine life. While many people may not relish the idea of swimming just feet away from hammerheads and white-tipped reef sharks, nothing compares to splashing in the clear Pacific waters with curious, playful sea lions and Equator-bound penguins.
Camp on the last continent
Guests traveling to Antarctica with Quark Expeditions can take their polar adventure to the next level by camping on the "White Continent." Outfitted with a bivy sac or tents designed for low temperatures, guests fall asleep under the Antarctic stars to the music of calving icebergs and serenading penguins and seals.
Go to the dogs…the truffle dogs
Country Walkers' guests in Italy look for clues such as certain types of trees, leaf litter, and amount of sunlight and moisture while on the hunt for truffles in Piedmont's Alta Langa (Upper Langhe). Accompanied by an expert local truffle hunter and his dog, guests learn the secrets of scouting for the delectable mushroom and sample Piedmont's renowned Barolo.
Soar above the African plains
Aboard a hot-air balloon, travelers soar in the company of the rising sun and exotic birds, high above the watchful eyes of the "Big Five" in Kenya's Masi Mara Reserve. Adding a hot-air balloon excursion to International Expeditions' Kenya & Tanzania safari allows guests a panorama of rolling plains and the roaming herds while gliding above the treetops.
For more information or a brochure on 2013 journeys, call International Expeditions at 1-800-234-9620, e-mail nature(at)ietravel(dot)com, or visit http://www.IEtravel.com.
Celebrating 33 years of nature travel, International Expeditions specializes in small-group journeys to Earth's most exhilarating destinations. A pioneer of environmentally responsible travel, IE is committed to preserving natural habitats and improving the welfare of the people and communities it visits. International Expeditions has been named to Travel + Leisure's list of "World's Best" tour operators & safari outfitters for seven years and to National Geographic ADVENTURE magazine's list of "Best Adventure Travel Companies on Earth."