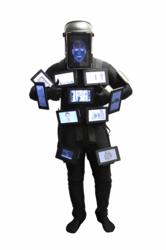 Westlake Village, CA (PRWEB) December 19, 2012
TabletMan, with a dozen plus tablets attached to his body, became an instant hit at the 2012 International Consumer Electronics Show (CES) in Las Vegas and IFA Consumer Electronics Unlimited show in Berlin. Accessory Power plans to continue that same momentum with this upcoming CES held between January 8th and 11th 2013 at the Las Vegas Convention Center.
"The TabletMan is an interactive character that highlights our popular and upcoming items," said Accessory Power CEO Robert Breines. "We have seven brands with over 1000 products and I'm glad that TabletMan can bring attention to our booth."
GOgroove is the most popular brand. The GOgroove Pal Bot, an Android logo-inspired portable speaker with a small green body, moveable arms and glowing LED eyes, not only looks cute, but it delivers great sound. The GOgroove Bluesync SLK – a universally-compatible Bluetooth stereo speaker – and GOgroove FlexSmart X3 – a Bluetooth FM transmitter that controls a playlist and can make hands-free calls are designed to make your driving experience safer and more enjoyable.
"Each of our brands is catered to a specific consumer," said Alex Rocha, Senior Product Developer. "For example, our GOgroove line features our audio accessories; ReVIVE has our charging and power products and USA GEAR for bags and cases."
One of the newest additions to the ReVIVE brand is the Solar Restore XL. In tune with conserving energy, this portable battery pack is charged solely by the power of the sun. The Solar Restore XL Panel is a solar add-on panel that charges the battery pack in half the time. Both come in black or white.
The USA GEAR brand has expanded in 2012 with the introduction of the FlexARMOR X line, products that are made with weather-resistant neoprene (heavy padding) exterior and scratch-resistant interior. DSLR camera sleeves and smaller digital camera bags, along with tablet cases, MP3 and digital voice recorder holders are all part of this new line.
"Not only do our products have interesting looks, but they are very useful. I really can't wait for the international community to see more of them!" exclaimed Breines.
Dressed in all black, the TabletMan will be a moveable display giving a virtual tour of the brands and representative products. Accessory Power and the TabletMan will be at booth 31862.
For further information regarding Accessory Power and its products, visit http://www.accessorypower.com
# # #
Accessory Power is an American-based manufacturing and distribution company, with offices in USA, Asia and Europe. Since 1980, Accessory Power has been dedicated to manufacturing quality consumer electronic accessories. An important distinction that divides this company is an unrelenting commitment to quality in each step of a product's life; each product is backed by an industry-leading three-year warranty. Accessory Power is proud to say that they are, "The Power Behind Your Electronics!"