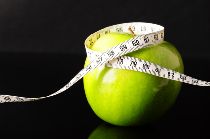 Doctors Treating What Diets Can't
Canoga Park, Ca (PRWEB) December 18, 2012
The holiday season should be a time of fun, family and good cheer. But many people find it frustrating to try to enjoy themselves while slipping in their weight loss goals. The medical weight loss experts at 101 Medical Weight Loss say you can maintain your weight - or even lose weight - over the holidays by remembering three time-tested rules.
1. Watch your portions. At seasonal get-togethers, make preparing a meal a snap by mentally dividing a dinner plate in half. On half of the plate, put steamed or raw veggies. For the other half, mentally divide it in half again so that there are two more sections – each a quarter. On the remaining areas place a whole-grain starch and a lean protein (such as grilled meat, fish, or chicken). This makes it more difficult to over-eat the high-calorie foods that can derail healthy eating.
2. Keep up the exercise. Don't drop an entire fitness routine just because of the holidays. Keep burning off extra calories into the New Year by staying active, in addition to watching portions.
3. Mind your beverages. Most people know they shouldn't overeat, but it's easy to forget about the liquid calories that come from drinking. Dieters can pile on 800 calories or more by having just two fruity alcoholic drinks. Stick to a one-drink maximum and opt for a glass of wine, lite beer or a drink mixed with tonic water or diet soda. In addition, be sure to drink water before and after.
Doctors at 101 Medical Weight Loss understand that this is a difficult time of year for people who are watching their weight. They are offering $50 off of their medical weight loss programs until the end of January 2013.
About the company: If you've tried those gimmicky diets and aren't getting the results you'd like, 101 Medical Weight Loss will help you succeed where others failed you. Dr. Aazami understands that everyone is different and therefore, needs a different plan in order to achieve their weight loss goals. At the initial consultation Dr. Aazami will go over your body composition analysis report which will tell us your predicted metabolism as well as how much fat, muscle and water you have in your body. Dr. Aazami will also let you know the amount of weight that you are predicted to lose in the next 4-6 weeks on one of our medically prescribed programs.
To get started, visit http://www.101medicalweightloss.com or call 818-312-9595 and schedule a consultation.