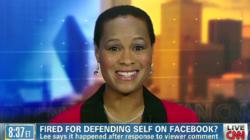 When a company has a social media policy, it is important that they clearly spell it out for employees.
Newport Beach, CA (PRWEB) December 19, 2012
A Louisiana news station fired its meteorologist, Rhonda Lee, after she responded to a viewer's negative comments regarding her short hair. According to a Dec. 12 MSNBC report, the comments came from Emmitt Vascocu, a viewer and commenter, who wrote on the station's Facebook page that he did not approve of Lee's short hair asking if she is a "cancer patient."
Lee, an African American woman, responded to the Vascocu's comments stating that she was sorry he did not like her "ethnic hair" and went on to explain why she keeps her hair short, the MSNBC report states. Managers at KTBS allegedly fired her for violating their policy when it comes to responding to viewers on social media sites and that only managers had the authority to respond to such comments according to the MSNBC report.
A number of companies have social media policies in place, but it is important that all employees are properly informed about these policies, says John Bisnar, founder of the Bisnar | Chase personal injury law firm. "When a company has a social media policy, it is important that they clearly spell it out for employees. Supervisors must go over these policies and procedures with their employees and obtain an acknowledgement such as a signature, which clearly shows that the employee knows about the policy and has understood it."
"With the proliferation of social media websites, both employers and employees must be extremely careful about the statements they make on these sites", Bisnar says. "In my opinion, Rhonda Lee was polite and explained her position on the issue in a very courteous manner despite Vascocu's public negative comments."
About Bisnar | Chase
The California Employment Lawyers of Bisnar | Chase represent victims of discrimination at the workplace, auto accidents, defective products, dangerous roadways, and many other personal injuries. The firm has been featured on a number of popular media outlets including Newsweek, Fox, NBC, and ABC and is known for its passionate pursuit of results for their clients.
For more information, please call 800-561-4887 or visit http://www.bestattorney.com for a free consultation.
Source:
http://tv.msnbc.com/2012/12/12/meteorologist-fired-after-defending-her-ethnic-hair/
https://www.facebook.com/KTBS3