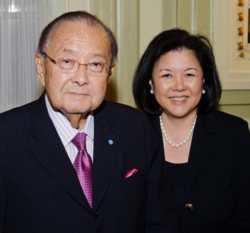 Generations of Americans have realized their dreams because of Senator Inouye's commitment to justice.
Washington, DC (PRWEB) December 17, 2012
The National Alliance for Hispanic Health issued the following statement today on the death of Senator Daniel K. Inouye:
"The National Alliance for Hispanic Health (the Alliance) joins the nation in mourning the loss of Senator Daniel K. Inouye, an American patriot and champion of civil rights and the dignity of all. Our prayers are with his wife Irene Hirano Inouye and the Senator's son Ken and granddaughter Mary Margaret "Maggie" Inouye.
"Generations of Americans have realized their dreams because of the opportunities Senator Inouye fought for in his life's commitment to justice," said Dr. Jane L. Delgado, President and CEO of the Alliance."
In 2011, Senator Inouye received the Alliance's VIDA National Hispanic Health Leadership Award. In his remarks accepting the VIDA award Senator Inouye reflected on his career and said that discrimination was a part of his life from serving in a segregated army to finding in Congress the Members dining room was segregated. "I will never accept discrimination," Senator Inouye told those gathered.
Senator Inouye's was a career of honor. In 1941, he was at the Pearl Harbor attack as a medical volunteer. In 1943, when the U.S. Army dropped its ban on Japanese-Americans, he curtailed his premedical studies and joined the Army's Nisei 442nd Regimental Combat Team, which became the most highly decorated unit in the history of the Army. He earned the nation's highest award for military valor, the Medal of Honor.
In 1959, he was elected as Hawaii's first Congressman and in 1962 was elected to the U.S. Senate. Senator Inouye championed landmark legislation that fostered civil rights, expanded opportunities for education, protected the environment, and expanded health access for millions. He guided the nation through difficult national challenges as a member of the Watergate Committee and as Chairman of the Iran-Contra Committee. At the time of his death, he was the most senior member of the Senate.
"Senator Inouye lived his life with honor and love for his country and all humanity. His is an example for this and future generations of a life well lived," concluded Dr. Delgado.
###
About the National Alliance for Hispanic Health The Alliance is the nation's foremost science-based source of information and trusted advocate for the health of Hispanics in the United States. The Alliance represents thousands of Hispanic health providers across the nation providing services to more than 15 million each year, making a daily difference in the lives of Hispanic communities and families. For more information, visit http://www.hispanichealth.org.