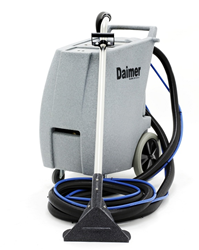 Daimer® is proud to offer the XTreme Power® XPH-9350 with patented XTreme-Xtraction™ technology, which more than satisfies the requirements as expressed by many people all across the globe seeking to buy the company's commercial carpet cleaners.
Woburn, MA (PRWEB) December 18, 2012
Daimer Industries, Inc.®, the world's leading supplier of American made cleaning machines, including superior carpet cleaning machines, industrial powered truck mount carpet cleaners, and professional carpet cleaning equipment to more than 200 nations, is debuting its international carpet cleaners bundled with the company's XTreme-Xtraction™ for use within countries requiring 50 Hz. power.
Although Daimer® has been shipping carpet cleaning machines to clients across the globe for many years, the XTreme Power® XPH-9350 portable carpet shampooer system is the world class solution to satisfy the hundreds of inquiries received by the company during recent months. Daimer®'s model comes standard in 220 - 240 volt power for use on single phase circuits.
Apparently, foreigners worldwide really appreciate the fine workmanship of commercial carpet cleaners produced by a well-known company like Daimer® in the Unites States. Unfortunately, manufacturers outside of the U.S. and even those within customers' local regions lack the high grade, reliable components as well as the rigorous quality control standards for which America is well known. The XTreme Power® XPH-9350 offers an outstanding pressure level of 15.2 bar and temperatures up to 98.9°C.
"Carpets are extremely popular as flooring surfaces, and the same carpet cleaning techniques are followed by everyone regardless of the location," says Daimer Industries, Inc.® spokesman Matthew Baratta. "Daimer® is proud to offer the XTreme Power® XPH-9350 with patented XTreme-Xtraction™ technology, which more than satisfies the requirements as expressed by many people all across the globe seeking to buy the company's commercial carpet cleaners. Daimer®'s equipment includes exclusive technologies not offered elsewhere in the industry."
Traditional vacuum machines are not powerful enough to deep clean carpet fibers as well as remove allergens. However, Daimer®'s versatile mobile carpet cleaners are real carpet cleaning equipment. The high-quality equipment is ideal for use by businesses, professional cleaners, restaurants, hotels, and many other commercial settings within almost all sectors of all economies worldwide. Most of Daimer®'s carpet cleaners, such as the XTreme Power® XPH-9350, feature adjustable temperature control technology that allows operators to clean all kinds of carpets, ranging from those comprised of synthetic material to other made of natural fibers. The machine is perfect for use within both residential and commercial facilities.
Carpet steam cleaners such as the XTreme Power® XPH-9350 offer powerful 15.2 bar pressure to efficiently eliminate allergens, pollen, dirt, dust mites, food substances/stains, and pet dander. The system features durable inline heating elements that heat water to 98.9°C within merely 3-5 minutes, resulting in substantially improved productivity for the cleaning professional.
The drying time of these XTreme Power® high performance carpet steam cleaners is within 2 hours, and users can easily disable heat while cleaning delicate carpets made of wool or other fibers that can get damaged by high temperatures. Synthetic fibers, such as nylon, can withstand heat easily. Turning the heat on or off is as easy as simply flipping switches.
At present, Daimer®'s carpet cleaning machines come with its patented XTreme-XTraction™ 12" wand that offers 60% more suction than any other wand from other brands in the market. The suction power is equivalent to that of a separate vacuum motor, the benefit of which is even faster drying times. Additionally, the XPH-9350 also comes with 7.6m vacuum and water hoses that allow operators to clean up to a 609.6 sq meter radius area while keeping the machine in place.
The company's other most popularly purchased wand is its optional four inch upholstery tool, which is ideal for cleaning fabric office segmentations, furniture, stairs, spots, and more. This tool is also used by auto detailing pros and car dealerships to both easily and quickly clean carpeting and fabric upholstery within cars, buses, recreational vehicles, trucks, and other transportation vehicles.
During the company's promotions, Daimer® offers free with its commercial carpet cleaners two gallons of its Eco-Green® Carpet Care and Upholstery Cleaner that can clean up to a 64,000 sq. ft. surface area. The completely soap-free, plant-based chemical provides enhanced cleaning results without leaving behind any soap residue as it gets extracted immediately. The solution works on a molecular level to break down substances better and more safely than conventional harmful cleaning agents. Everything the company provides results in the fastest and best carpet cleaner experience for the end user.
Additional Information:
To learn more about Daimer®'s XTreme Power® XPH-9300, visit the company's website, or call Matthew Baratta at (888) 507-2220. Daimer® offers machines in 220-240 volts, 60 Hz as well as 50 Hz.
About Daimer Industries, Inc.®:
Daimer Industries, Inc.® is a leading U.S. and international supplier of more than 600 models of truck mount carpet cleaners, pro carpet extractor machines, vapor cleaner systems, high pressure cleaners, and other technologies with advanced technologies for auto detailing, furniture and upholstery cleaning, and many more applications within most industries globally.