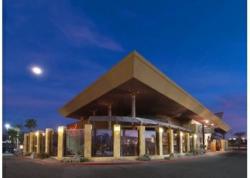 Private buyers are willing to move very quickly and beat out others in regards to price in order to get what they want
Las Vegas, NV (PRWEB) December 19, 2012
Privately owned Las Vegas commercial real estate brokerage firm Fortis Commercial Advisors celebrated six successful commercial property closings in a 10-day period in November, a timeframe unusual in the industry. The timing and pricing of the transactions demonstrates the firm's knowledge of the market and the wealth of private buyers working with Fortis to acquire commercial property in Las Vegas.
Several aspects stand out about those six commercial property closings, all of which were cash transactions handled by key company personnel Dean Jalili, Frank Jalili, Dana Souter and Susanne Moore. The sales included 3 Las Vegas area land parcels, a multi-family property, a former restaurant and an owner-user office warehouse located close to McCarran International Airport.
A commercial property at 1050 South Rampart Boulevard in the prestigious Boca Park shopping center near Summerlin was a short sale listing managed by Senior Investment Advisor Dana Souter. The property, a shuttered former restaurant, sold for an impressive $250 per square foot with the buyer closing in fewer than three business days. Souter also handled the listing and sale of 3903 West Martin Avenue, a two-building office warehouse property which sold to an owner user in an all cash transaction for $1,550,000 or over $150 per square foot.
Susanne Moore, CCIM and 30 year industry veteran who joined Fortis as an Investment Advisor in 2011, handled the listing and sale of 3811 Royal Crest Street, a multi-family property near the strip and Las Vegas convention center. The property, purchased post-foreclosure last year, was renovated and sold in an all-cash transaction for above $36,000 per unit. Again, the buyer was willing to close the deal in less than 10 days with limited contingencies.
The remaining properties were a bulk deal handled by Frank Jalili and company broker Dean Jalili whose team oversaw the cash purchase of three separate land parcels totaling over 12 acres in Las Vegas and Pahrump. Dean Jalili who started in commercial real estate in 2002 with national firm Grubb & Ellis and then Sperry Van Ness, says the timing and pricing are unprecedented in the Las Vegas commercial real estate market and demonstrate that buyers are aggressively moving to take advantage of depressed pricing.
According to Dean Jalili who started Fortis Commercial Advisors in 2007 with his Frank Jalili, says smaller firms like his are handling a larger chunk of the sub $20,000,000 investment market, especially to private investors. Jalili says "Private buyers are willing to move very quickly and beat out others in regards to price in order to get what they want. Many of these buyers feel overlooked when they call on national brokerage firms to find investments and as a result, my phone rings dozens of times a with buyers looking for the latest investment property offerings in Las Vegas. These sales really highlight the fact that if you are an owner trying to sell your Las Vegas commercial property and are getting no action, it's either not priced right or it's just not being marketed properly."
Fortis Commercial Advisors offers, "a level of service and attentiveness along with real-time market knowledge comparable if not better than the large national firms," says client Robert Kling, CEO and President of LRL Management, LLC which develops and owns commercial property nationwide." Kling who currently has several properties in escrow to buy through Fortis goes on to add "That knowledge is invaluable in today's economic climate in order to truly understand your options as a buyer, seller or property owner."
"Our value proposition is very simple: We offer the same expertise and marketing exposure as the 'big brokerage houses' but as a boutique firm our client service surpasses those larger outfits," says Dean Jalili, who founded Fortis with his brother Frank Jalili in 2007. "Clients can actually reach us by phone when they need to which means a lot in a market as dynamic as the Las Vegas commercial real estate market," says Dean Jalili. "Our clients are aware that we know this market like the back of our hands. We have our fingers on the pulse of the commercial real estate community when it comes to knowing real qualified buyers, upcoming opportunities and the story behind the story."
Fortis Commercial Advisors expects to triple sales and leasing volume over the next 12 months compared to 2011 primarily due to continued expansion of its brokerage team coupled by newly added leasing and management assignments with plans to expand into regional markets within two years.
To learn more about Fortis Commercial Advisors, go to http://www.fortisadvisors.com. To follow company updates, visit our LinkedIn at http://www.linkedin.com/company/fortis-commercial-advisors or follow us on Twitter at Twitter.com/FortisAdvisors.
# # #
About Fortis Commercial Advisors
Fortis Commercial Advisors is a fully integrated commercial real estate brokerage and property management firm headquartered in Las Vegas, NV owned by the Fortress Group, Inc. With multi-faceted representation capability and market expertise, Fortis provides extensive knowledge and value to its clients throughout every step of the investment cycle.