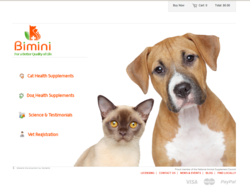 We feel that providing education and knowledge to pet owners and veterinarians is the first steps in helping people understand how they can help their cats and dogs by making informed decisions
San Diego, Calitfornia (PRWEB) December 19, 2012
Bimini, LLC a leader and innovator for cat and dog health supplements for a better quality of life announced that they will be running a series of monthly on line educational webinars. They will also be inviting guest speakers to cover a broad spectrum of topics related to pet's health and wellbeing. The first speaker will be Dr. Al-Murrani who has over 20 years of life science experience within industry and academia. He has established and led multi-cultural teams and operations relating to innovative translational research programs within the human and animal health sectors for the past 12 years first at the Penn State University College of Medicine and then as Manager of Research at Hill's Pet Nutrition, a division of Colgate-Palmolive Company. The main focus of his research programs included, human oncology, therapeutic nutrition and animal health.
The first on line webinar will be on December 21st at 11am PDT/2pm EDT and the topic will be on aging and progressive degenerative disease in cats and dogs. The aging process is a natural process that occurs in all animals. Aging does not affect only one organ or body system but affects all organs and body functions. The underlying molecular and biochemical processes involved in the aging process are similar across species but their clinical manifestations can be very different and vary with species. Progressive degenerative diseases such as chronic cat kidney disease and degenerative dog joint disease can have a major impact on the quality of life especially as the pet gets older. In this presentation we shall review available information to-date about those diseases in dogs and cats from a molecular and biochemical point of view. Our major emphasis will be how to use this information to establish best practices to alleviate the impact of the disease on the quality of life of the pet. To register for this on line webinar please go to http://www.biminipethealth.com/pages/webinars
"We want to make a difference for cats and dogs by improving their quality of life", said Julie Bryant of Bimini, LLC. "We feel that providing education and knowledge to pet owners and veterinarians is the first step in helping people understand how they can help their cats and dogs by making informed decisions."
About Bimini, LLC.
Bimini was founded by scientists who produce high quality, unique, cat and dog health supplements for a better quality of life. The goal is to support the proper function of their organ systems. Dogs and cats have different biology, biochemistry and, genetics, they have different bacteria that inhabit their gut and an overall metabolism that is unique to each of them and different from humans. Therefore, Bimini was launched to design and produce the highest quality cat and dog specific health supplements made in the USA and backed by scientific evidence.
For more information, please visit the company's web site at http://www.BiminiPetHealth.com