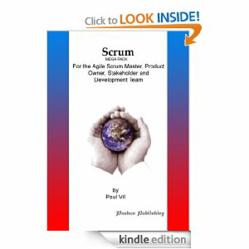 Scrum Mega Pack is a Top #10 Bestseller and is 99 cents for a lifetime of ease running projects
(PRWEB) December 19, 2012
Author Paul VII of Pashun Consulting Ltd launched his agile scrum guide book "Scrum Mega Pack" just six days ago on December 13. The book contains a guide for running projects in any business, and has jumped into the Amazon Top #10 Bestseller categories "Project Management" and "Software Project Management." Paul VII has since received masses of retweets and a increased following on his twitter account where he gives away his free scrum ebook.
"It was amazing to be introduced to the world on Amazon as a bestselling author," said Paul VII. "Amazon has made it incredibly easy for me to spread the benefits of scrum and engage the huge computer, business and project management markets in the US and around the world, which combined is a multimillion dollar industry."
Paul VII is currently selling his book on Amazon for just 99 cents (US) for a limited time. For a book that is over 200 pages long, it completely explains how any person or business can use scrum to deliver projects. It seems counter-intuitive to sell the book for just 99 cents, when it took months to write.
"The idea is that 99 cents is such a low affordable price, you may as well invest that small amount in return for some knowledge that can make you or your business vastly more efficient. Although it was a massive risk for me, the sales have proved that selling the "Scrum Mega Pack" for 99 cents was the best way to spread the word on agile and scrum."
Although Amazon's sales figures are refreshed every hour, Paul VII has sold large amounts of his book in just a few days. "I can't stress enough how much the Amazon platform helped me get the Scrum Mega Pack to the people who are going to benefit from running smoother projects," said Paul VII. "Within seconds of seeing it online, they know that they are 99 cents away from reading it. I plan to keep using any platform that will help spread the word of agile scrum for an unbelievably low price."