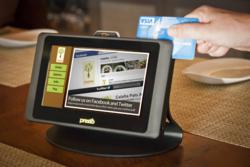 51% of consumers consider it important for restaurants to integrate technology into their ordering capabilities
Palo Alto, CA (PRWEB) December 20, 2012
E la Carte, developer of the innovative Presto tablet tableside ordering system for the hospitality industry, announced today that it has entered into a strategic agreement with the industry's leading point of sale and restaurant technology solution, NCR Aloha. This partnership allows NCR Aloha customers to take advantage of the Presto tablet system integration with their NCR Aloha point of sale system.
Using the Presto tablet, restaurant guests can browse professional quality images of the entire menu, place orders, make payments, split checks, and play interactive games – all from the comfort of their dining table without having to wait for assistance. With full integration to NCR Aloha, customer orders placed at the table are sent directly to the kitchen through the point of sale system.
Presto tablets have been proven to increase restaurant sales by 10% through impulse orders, upsells, and personalized recommendations. Unlike iPad solutions, Presto tablets are specifically designed for the demanding restaurant environment, are powered by an unprecedented 20-hour battery life and feature a built-in credit card reader. NCR Aloha users will benefit from the simplicity of the ordering process, making it effortless to enhance the guest experience while increasing profitability and operational efficiencies.
"NCR is an industry leader in providing cutting-edge technology to restaurants," said Rajat Suri, CEO and Founder of E la Carte. "Our integration with the NCR Aloha technology offers restaurants a solution that will truly satisfy their guests' needs."
Restaurant guest demand for this type of solution has been increasingly steadily. According to a recent Technomic study, 51% of consumers consider it important for restaurants to integrate technology into their ordering capabilities. Consumers surveyed were most interested in seeing more tableside touch-screen devices that enable digital ordering and at-table payment, digital rewards tied to loyalty programs, and menus on tablet devices.
To learn more about E la Carte's Presto tablet, visit http://www.elacarte.com. To learn more about NCR, visit http://www.ncr.com
About E la Carte
E la Carte is creating a restaurant revolution by updating restaurant tables with Presto touch-screen tablets, finally propelling restaurants into the Information Age. Founded in 2008 at MIT, E la Carte is headquartered in Palo Alto, in the heart of Silicon Valley. The company has raised millions in funding, with investors such as Founders of companies such as Groupon, Dropbox, Farmville, & Reddit; plus Skip Sack, former Chairman of the National Restaurant Association.
About NCR Corporation
NCR Corporation is a global technology company leading how the world connects, interacts and transacts with business. NCR's assisted- and self-service solutions and comprehensive support services address the needs of retail, financial, travel, hospitality, entertainment, gaming, public sector, telecom carrier and equipment organizations in more than 100 countries. NCR (http://www.ncr.com) is headquartered in Duluth, Georgia.