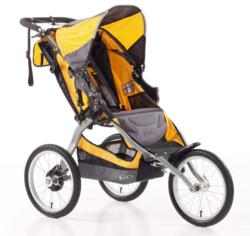 What's the top jogging stroller? We decided to find out...
Cheyenne, Wyo. (PRWEB) December 18, 2012
BabyGearLab today announced the winners of its comprehensive 2013 jogging stroller review. Winners were selected among 10 leading competitors, representing the most popular and highly regarded strollers on the market. BabyGearLab performed extensive field-testing over a four-month period in which they measured performance levels in five separate categories: running/jogging use; all-terrain use; ease-of-use; maneuverability; and folded weight/size, with results available online at the Best Jogging Stroller Review.
The four winners are listed below:

The BOB Revolution SE was awarded the Editors' Choice Award for its great ride, manuverability, and nimbleness. The versatility and superb quality of this stroller makes it a terrific choice for exercising moms.
The Top Pick Award for Serious Runners went to the BOB Ironman for its smooth and easy ride. It's an easy stroller to run with on hard surfaces, especially for fast and long-distance runners.
The BOB Sport Utility was the obvious choice for hiking and cross-country running, and so took home the Top Pick Award for All-Terrain. Its knobby tires, durability, and responsive hand-breaks, along with its relatively low weight and fixed front wheel reinforced its winning position.
The Baby Trend Expedition won the Best Value Award for its low price and utility for those looking for use mostly around town, and only jogging for short distances over smooth paved surfaces. Although the quality of the Expedition is not comparable to any of the BOB winning strollers, its affordable price makes it accessible to many families.
The editors of BabyGearLab have also made a buying guide available online entitled, "How to Choose the Best Jogging Stroller," providing tips on which features are worth considering prior to purchase and why they matter.
About BabyGearLab
Founded in 2012 by Juliet Spurrier, MD, a board certified pediatrician, BabyGearLab's mission is to become the world's most credible and detailed source of side-by-side baby product comparison reviews. Dr. Spurrier, along with the expert staff at BabyGearLab, test leading baby products and review them using a meticulous and objective rating system. The website also publishes informative buying advice guides based on their testing experience, as well as health and safety articles for new parents.