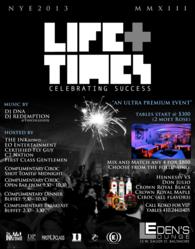 2012 was a very challenging, yet successful, year and this is the perfect way to end 2012 and bring in 2013
Baltimore, Maryland (PRWEB) December 18, 2012
New Year's Eve 2013 at Eden's Lounge: Life+Times.
Eden's Lounge, a leader in Baltimore Nightlife, is ready to celebrate New Year's Eve 2013 in style. Eden's Lounge has been hosting New Year's Eve celebrations for the past seven years, and they have been nothing short of spectacular. Partygoers have been enjoying open bars, complimentary dinner and breakfast buffets, champagne toasts, and much more. This is definitely one celebration that the owner, Helen Metaferia, looks forward to hosting. "This is one of those celebrations that we see so many beautiful people that only come out once a year to celebrate" says Helen. She also mentions that this is the only time of the year Eden's Lounge can party past Baltimore's usual closing time of 2am. Eden's Lounge plans to stay open until 4am, but of course, if the attendees are still partying, there is nothing that says they have to end the party at 4am.
Eden's Lounge will open their doors at 9pm. The Dinner Buffet will start at approximately 9:30pm and end at approximately 10:30pm. The dinner buffet will consist of Ethiopian Awaze Beef Tibs, Chicken Pesto Pasta, Fried Tilapia, chicken and beef mini sliders, tomato salad, and assorted fruits. The Breakfast buffet will start at approximately 2:30am and end at approximately 3:30am. The breakfast buffet will consist of French toast, Scrambled eggs, bacon, home fries, and assorted fruits.
Eden's Lounge will offer VIP tables as well. Tables start at $300, which comes with two bottles of Moet Nectar Rose Imperial. According to their advertisement, they will be offering bottle specials on Ciroc, Hennessy, Moet Nectar Rose Imperial, Crown Royal, and Don Julio. Eden's Lounge will also offer a Ciroc open bar from 9:30 – 10:30 to get everyone into the celebrative mood. Eden's Lounge will also offer a Ciroc Toast at midnight instead of the normal champagne toast.
Eden's Lounge is known for their excellent deejays spinning the best dance music. Some of Baltimore's hottest deejays will have everyone dancing all night. Eden's Lounge has also brought in some of Baltimore's most popular party promoters such as The INKrowd, EO Entertainment, Certified FlyGuy, C7 Nation, & First Class Gentlemen. "It's always a beautiful crowd at Eden's Lounge on New Year's Eve," says bartender Rebecca, "this year will be even better."
Eden's Lounge calling the New Year's Eve celebration Life & Times, named after Jay Z's website celebrating success, art, style, music, etc. "This is exactly what we are celebrating" says Helen, 2012 was a very challenging, yet successful, year and this is the perfect way to end 2012 bring in the New Year 2013. Click Here to purchase $20 advance tickets.
Eden's Lounge
Eden's Lounge, opened 2005, is located in the heart of Mt. Vernon, Midtown Baltimore, Eden's Lounge has been leading Baltimore nightlife for over seven years. Eden's Lounge boasts very tasty appetizers and entrees, including Ethiopian entrees. Eden's Lounge has also become known for it's happy hours and nightlife. Attracting diners and party goers from all over the world, Eden's Lounge has become internationally known as the place to be if you are looking for good food, cocktails, and entertainment. Eden's Lounge has been recognized by major Media Outlets as one o the top bars/lounges in Baltimore. For more information about Eden's Lounge, go to http://www.edenslounge.com or call 410.244.0405
# # #
If you'd like more information about this topic, contact Harold Edwards at he(at)edenslounge(dot)com or go to http://www.edenslounge.com