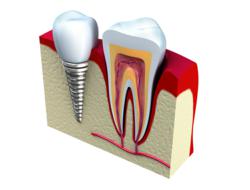 Atlanta, GA (PRWEB) December 19, 2012
Whether a patient loses a single tooth during a particularly rough game of flag football or has lost several teeth to advanced gum disease, dental experts agree that replacing missing teeth as soon as possible will help those patients avoid potentially serious oral health problems later in life. Dr. David Zelby, an implant dentist based in Atlanta, notes, "Most people have heard of dentures or bridges, but many don't know that dental implants represent the very latest in tooth replacement technology." Comprised of a small, screw-like device surgically inserted into the jaw and topped with a dental prosthetic, a dental implant can restore the appearance, function, and health a patient's mouth after tooth loss. When weighing the tooth replacement options, patients should consider the following benefits of dental implants:
1) Dental implants are appropriate for replacing any number of missing teeth. An implant-trained dentist can cap implants with a single crown or a partial denture. For patients with no natural teeth, implants can secure a full set of dentures.
2) Dental implants provide the most long-term tooth replacement option. Dentures and bridges generally require replacing every 5-10 years. With proper care, dental implants can last well over 20 years.
3) Dental implants help maintain healthy bone density. Without a tooth root constantly exerting pressure within the jaw, the bone tissue surrounding a missing tooth begins to deteriorate. Dental implants replace tooth roots and exert the force necessary to maintain a healthy, strong jaw bone.
4) Dental implants keep the remaining teeth healthier. When a patient loses a tooth, the remaining teeth tend to drift toward the open space. Drifting teeth create hard-to-clean areas where plaque can build up and lead to an increased risk of gum disease and tooth decay. Implants maintain the proper spacing needed to keep the teeth clean and healthy.
5) Dental implants greatly improve a patient's appearance. Missing teeth can make a person appear older and in poor health. Filling in the gaps in a smile with dental implants can give a patient newfound confidence.
6) Dental implants restore healthy chewing ability. In general, people with missing teeth experience poorer health because they eat a restricted diet of soft, easy-to-chew foods or they cannot chew their food properly and the body cannot adequately absorb the nutrients. Dental implants function just like natural teeth and allow patients to eat a normal diet of varied textures.
7) Dental implants restore normal speaking ability. Teeth are essential to forming the sounds needed for normal speech. Missing teeth can make a person's speech sound slurred, lisped, or otherwise distorted. Dental implants fill in the gaps and return speech function to normal.
8) Dental implants have a high success rate. According to the American Academy of Oral and Maxillofacial Surgeons, dental implants have a success rate of 95%.
9) Dental implants do not require any special care. Patients with crown-topped dental implants should continue to brush and floss as normal. In a similar manner, implant-secured dentures can be removed for cleaning just like traditional dentures.
10) Dental implants are more conservative than bridges. Fixed bridges require the removal of tooth enamel from the neighboring teeth. Dental implants do not require enamel preparation and preserve more of a patient's natural tooth structure.
11) Dental implants provide a more security than dentures. Unlike dentures that can slip, slide, click, and require periodic refitting, dental implants do not move or require adjustments.
As with any procedure, dental implants may not be appropriate for every patient. Dr. Zelby remarks, "Patients with compromised jaw bone density and younger patients whose jaws are still developing do not generally qualify for dental implant placement." However, only a dentist can determine with certainty a patient's candidacy dental implants.
To discuss dental implants with expert implant dentist, Dr. David Zelby, interested parties can call Aesthetic & Implant Dentistry of Atlanta at (770) 995-0550 or visit http://www.davidzelbydds.com.