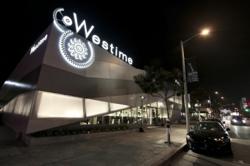 Watch and jewelry store Westime Sunset debuted among the chic restaurants and boutiques of Sunset Plaza and the legendary nightclubs of the Sunset Strip.
Beverly Hills, CA (PRWEB) December 19, 2012
Westime, Southern California's leading family-owned watch and jewelry retailer, toasted the opening of its new flagship boutique on Sunset Boulevard last weekend with three nights of festivities. Throughout the event series, local guests mingled with more than 30 watchmakers and executives from top watch and jewelry companies, while shopping the collections that included unique pieces and limited editions available exclusively at Westime during the holiday period.
Flagship Design
Westime Sunset debuted at 8569 Sunset Boulevard, among the chic restaurants and boutiques of Sunset Plaza and the legendary nightclubs of the Sunset Strip. The 6,600-square-foot store, designed by Wick Architecture & Design and LAND, reflects the bold buildings and signage of the Sunset Strip. Perforated and back-lit metal panels wrap the asymmetrical façade, while a front wall of windows allows passersby to see the brightly-lit scene inside.
Asymmetrical angles and high-contrast materials including glass, Venetian plaster, steel, walnut and polished concrete create a gallery-like setting inside Westime Sunset. Free-floating display cases on the ground floor allow customers to browse the watch and jewelry collections casually. The main floor also offers a corner customized to display Audemars Piguet's collection, a corner customized for Breitling watches, and two VIP rooms. The mezzanine level is accessed by a wide glass and wood staircase as well as an elevator. One-third of the floor is dedicated to a custom build-out of Buben & Zorweg collectors' pieces, hand-crafted and installed by the Austrian manufacturer in the same manner it would personalize a customer's walk-in closet, safe room, or entire wall of collectibles for high-tech safe-keeping. Elsewhere on the mezzanine, collections from Switzerland's independent watchmakers are on display, and a custom Richard Mille corner leads to an open-air terrace.
Store Celebrations
Parties marking the opening of Westime Sunset began on Thursday, December 13th with a cocktail party co-hosted by luxury lifestyle magazine Los Angeles Confidential. The magazine's readers, Westime clients, and customers of NetJets gathered in the store that was newly decorated for the holidays with a wintery white theme. While discovering the specialty watches and jewelry on display, guests enjoyed hors d'oeuvres provided by The Little Door that included salmon brioche, carrot ginger flan, and lamb tzatziki sliders. Disaronno mixed specialty cocktails for the evening. A special selection of watches and bracelets featured in the fashion shoot of Los Angeles Confidential's December edition took pride of place among the displays, and was also showcased in-store with a behind-the-scenes movie about the fashion shoot's jewelry.
The celebration continued Friday, December 14th with an intimate party for Westime's VIP clientele. The evening began with a single malt scotch master class conducted by Martin Daraz, America's Whisky Ambassador of the Year and brand ambassador for The Macallan and Highland Park Scotch whiskies. After an educational tasting of 20- to 40-year-old Scotch whiskies, guests made a final toast to Westime's new location with a whisky from 1958. Guests spent the rest of the evening enjoying the Scotch whiskies of their choice, sampling hors d'oeuvres selected to complement the various styles of whiskies, and shopping the collections on display.
Festivities culminated on Saturday, December 15th with a cocktail party co-hosted by luxury lifestyle publication Haute Living. A line-up of luxury automobiles provided by O'Gara Coach, including a Rolls-Royce Ghost, Bentley GTC and Lamborghini Superleggera, greeted Haute Living's readers and Westime's guests upon arrival. Inside Westime Sunset, DJ Nicolas Le Masson set the mood with lounge music as visitors enjoyed sweet and savory treats from The Little Door plus wine, Peroni beer and cocktails. In addition to discovering Westime's watch and jewelry collections, guests viewed an exhibition of paintings by local artist Marcello Pozzi. The silent auction of his painting "Time" raised money for the After-School All-Stars charity that evening. All guests throughout the weekend received a special edition Westime tote bag by Ghisò, the Italian manufacturer of fine leather accessories.
Westime Sunset is open Monday through Saturday from 10 am to 6 pm, and Sundays from 12 pm to 5 pm. Valet and self-parking are available on site. To contact the store directly, please call (310) 289-0808 or email sunset(at)westime(dot)com.
About Westime
For more than two decades, Westime has distinguished itself as the ultimate retail destination specializing in extraordinary watches and jewelry. Its three boutiques in Southern California—Beverly Hills, West Hollywood and La Jolla--display the collections of more than 50 watch brands that represent the best of traditional watchmaking as well as the new guard in haute horlogerie. Westime is frequently cited as one of a dozen multi-brand retailers in the world that influences trends in the watchmaking industry. Westime also operates the Richard Mille Boutique Beverly Hills on Rodeo Drive, and the Hublot Boutique on Brighton Way in Beverly Hills. The company is led by Founder John Simonian, and President Greg Simonian. For more information, please visit http://www.westime.com.