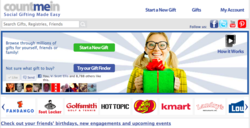 CountMeIn's platform provides a seamless, out of the box solution that levels the playing field for all retailers big and small
Toronto, Ontario (PRWEB) December 18, 2012
Today, CountMeIn brings retailers Facebook-enabled virtual storefronts that allow their consumers to find and organize gifts based on the "likes" and interests of their friends and family, with the option to promote products via social channels such as Pinterest, Twitter and Facebook.
Retailers can now compete with big box outlets like Walmart and Amazon that are storming the space with social recommendations, gift suggestions and wish lists. By utilizing CountMeIn's platform, small businesses can create fully branded collaborative storefronts with no up-front cost or development and begin monetizing their fanbases within days while protecting their online brands.
CountMeIn's intelligent electronic payment technology gives retailers a way to let their consumers collaborate or "chip-in" together on a purchase as a group from across the globe.
Social gifting collaboration boosts the virality of brands and products, while reducing a consumers' individual cost. CMI's full suite of tools also includes in-store QR code technology powered by CountMeIn's virtual international mall, coupled with a "chip-in" (or product collaboration payment) button that can easily be integrated into existing ecommerce environments.
Similar to Amazon's new Friends and Family feature that ramped up their shopping experience with gift recommendations using Facebook interests, CountMeIn's platform also gives retailers the power to drill down into user data, helping their consumers find the perfect gifts, while keeping tabs on their friends' important events, birthdays and anniversaries.
While many small to medium sized retailers have existing ecommerce sites, and may have dabbled in the social space with a Facebook page or a Twitter account, there are a large segment of retailers apprehensive about social commerce due to a lack of understanding and comfortability with the landscape.
"CountMeIn's platform provides a seamless, out of the box solution that levels the playing field for all retailers big and small," says Jeff Saul, Co-Founder of CountMeIn.