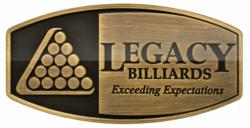 "We want this website to be an online hub for all aspects of billiards, game room furniture and beyond." - Cris Gould, Vice President of Sales & Marketing
Collierville, Tenn. (PRWEB) December 18, 2012
Legacy Billiards, a nationwide manufacturer of billiard tables and game room furniture, has launched a new e-commerce website: http://www.legacybilliards.com
Featuring Legacy's pool tables for sale, shuffleboards, game room furniture, and unique accessories like The Perfect Drawer, the all-new website offers photos, videos and detailed descriptions of each of the company's product offerings.
"This new website showcases our products better than ever before," Legacy's vice president of sales and marketing Cris Gould said. "Visitors to the site will be able to get an in-depth look at everything Legacy has to offer."
In addition to the new e-commerce site, Legacy has also launched a new blog featuring information and helpful tips including tips on maintaining your pool table, making family friendly additions to a game room, and hosting billiards parties.
As a part of their new website offerings, Legacy has also released two eBooks. Titled "Game Room Design & Buying Guide" and "Choosing an Heirloom Over Just Another Pool Table," these guides contain information and step-by-step guides for designing a game room, selecting a pool table, and choosing the right furniture and accessories.
"We want this website to be an online hub for all aspects of billiards, game room furniture and beyond." Gould said. "With the new blog, eBooks and video guides, shoppers will have all the resources they need to select the right items for their home game room project of any budget or size."
Those looking for a deal on a pool table for the holidays should start at the all-new LegacyBilliards.com. Now through December 24, shoppers can save money on a complete game room set including a Mustang Pool Table, spectator chair, floor rack, dart board and more with Legacy's annual nutcracker promotion.
About Legacy Billiards:
Based in Collierville, Tenn., Legacy Billiards is the fastest growing brand in the billiard industry. Backed by more than 30 years of experience in the business, Legacy's commitment to "exceeding expectations" is reflected in their innovative products including billiard tables, shuffleboards, game room furniture and accessories.