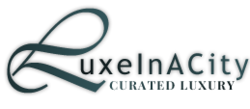 A curated list of the best Christmas Tree Celebrations of 2012
MONTREAL, QUEBEC (PRWEB) December 18, 2012
Decorating a house with a festive tree a few weeks ahead of the Christmas celebrations can instantly fill a home with holiday spirit. Some cities such as Atlanta, Edinburg, London and Lisbon have joined the festivities for years by putting up their own majestic Christmas tree in a popular plaza, allowing locals and tourists alike to enjoy the city's holiday spirit. Often received as a gift from Norway, these celebrated Christmas trees are an expression of gratitude and a grand gesture of friendship. LuxeInACity perused the world to find 10 incredible Christmas tree that are lighting up their cities this Merry Season.
LuxeInACity's top 10 Christmas tree celebrations of 2012 are:
1- Capital Christmas tree, Washington DC - USA: Harvested on the Blanco Ranger District of the White River National Forest, Colorado, the Capital Christmas Tree spends several weeks on the road visiting communities across the US before heading out to Washington DC shortly after Thanksgiving.
2- The Rockefeller Center Christmas tree, New York City - USA: Celebrating with style for more than 75 years, the impressive Christmas tree attracts a cheerful crowd year after year. To keep up with times, the Rockefeller tree now commemorates the Holidays in a true green spirit.
3- Macy's Great Tree, Atlanta - USA: This 60-foot white pine decorated with over 4,000 lights, 100 red Macy's stars, 1,200 multi-color metallic ornaments and 8.2 miles of wiring lights up Atlanta's Lennox Square to celebrate the season of joy.
4- Victoria Square tree, Adelaide – Australia: The city's mayor invites everyone to assist in the yarn bombing of Victoria Square to make for a merry good time. Bring a supply of Christmas bon bons for a giant bon bons cracking festivity.
5- Trafalgar Square tree, London – UK: This 115 to 120 years old Norwegian spruce travels by boat from Oslo to London after being selected by a team of experts for its beauty and height. Measuring over 21 metres tall this Christmas tree commemorates the friendship established between the two cities since the Second World War.
6- Terreiro do Paço public square, Lisbon – Portugal: This public square is adorned by a technological Christmas tree designed by Portuguese artist Leone Moura. The tree will projects a décor of words, films and real times images of the surrounding landscape and movement.
7- Daley Plaza Christmas tree, Chicago – USA: Inspired by the famed Nuremburg Christmas market dating back to 1545, the Chriskindlmarket in Daley Plaza is filled with local vendors of cookies, hand-crafted gifts and Christmas ornaments. The plaza is represented by a 64-foot Colorado Spruce that brings out the festive spirits in all.
8- Austurvöllur Square, Reykjavik - Iceland: Eliciting "oohs" and "aahs" from families gathered in Austurvöllur Square, this Norwegian Christmas tree is ceremoniously lit every year to the delight of all. The City of Oslo has given a tree to Reykjavik every year since 1952.
9- Champs-Elysées, Paris – France: New on the Christmas tree list, the Parisian "Tree Rings" are a series of luminous rings positioned around the 200 trees adorning the famous Champs- Elysées avenue. The trees are dotted by some 100 or so mirrors to create a chain of reflecting waves of colours and lights.
10- Christmas tree on The Mound, Edinburg – Scotland: Decked with hundreds of lights and Christmas trinkets, this Norwegian tree is the center of a succession of Holiday celebrations in and around Edinburg. With the turning of the Edinburg Ferris wheel, a cheerful parade and concerts, the city expects several thousand spectators this Merry Season.
About LuxeInACity.com
Launched in 2011 and with corporate headquarters in Montreal, Canada and Gothenburg, Sweden, LuxeInACity is a curated guide to luxury cities from around the world. Providing priceless information to affluent consumers and travelers worldwide, each luxury city guides features a curated list of premium brands waiting to service the bespoke needs of these high-network individuals.