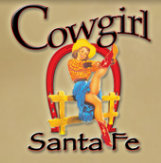 Santa Fe, New Mexico (PRWEB) December 17, 2012
Santa Fe dining institution and reliable entertainment hotspot Cowgirl has been serving the goods to visitors and locals when it comes to great food and music since 1993. During 2012, Cowgirl has brought entertainment in virtually every single night of the week, much to the delight of both locals and visitors. From 8:30 to 11:59 p.m., Friday, Dec. 28, 2012 the Cowgirl has The Bus Tapes schedule to perform for customers with their unique style of music. Santa Fe, NM's premier on-line visitor guide SantaFe.com, has this event listed on the company's event calendar.
Hailing from Santa Fe, New Mexico, The Bus Tapes are a fun and energetic band that have been entertaining local crowds since 2008. Their rhythmic, acoustic feel on top of relatable, sing-a-long song writing is the leading tone behind their collaborative music. Folks enjoy their interactive, friendly show, and appreciate the varying types of music – The Bus Tapes mix it up. One tune might be a funky R&B cover, the next a happy folk song, and the one after that a down-beat ballad. Members include Heather Tanner – Guitar and Vocals, Case Tanner – Bass Guitar, David Gold – Lead Guitar, and Milton Villarubia – Drums.
About Cowgirl:
Since 1993, the Cowgirl, which now occupies almost the entire block where it started, includes a restaurant, a billiard parlor, a commercial catering kitchen and several private party rooms. The patio is one of the most inviting summertime venues for locals and tourists alike and the Cowgirl has become a local institution.
About SantaFe.com:
SantaFe.com provides locals and visitors to Santa Fe alike the most current interactive platform for events, music, arts, business, dining and lifestyle. SantaFe.com is a division of Hutton Broadcasting, located at 2502 C. Camino Entrada, Santa Fe, NM 87507
Contact Information:
Scott Hutton
SantaFe.com / Hutton Broadcasting
(505) 471-1067 (Media inquiries only, please)
Contact Information:
Barry Secular
Cowgirl
319 S. Guadalupe St.
Santa Fe, NM 87501
(505) 982-2565