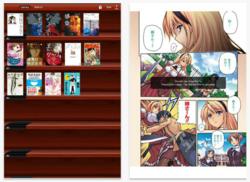 Japanese eBooks Can Be Viewed Anytime With CDJapan's eBooks Service
Tokyo, Japan (PRWEB) December 20, 2012
CDJapan, an English online shop located in Tokyo launched a Japanese eBooks service which is compatible with multiple devices. This eBooks service offers Japanese comics (manga), books, photo books, light novels, art books, and more to clients all over the world.
Features of CDJapan's eBooks
1. eBooks are absolutely free of charge which are offered in a 10-30% lower price compared to paper books.
2. Approximately 10,000 titles are available, while new titles are added every week.
3. Compatible with multiple devices. Downloadable period is unlimited.
Currently CDJapan's eBooks are available for the following devices: iPhone, iPad, iPod, Android phones/tablets as well as Windows PC (Japanese version only).
Up to 3 mobile devices can be registered to sync eBooks to the cloud server CDJapan hosts. This enables users to access the eBooks purchased from the user's computer through registered smart phones or tablets.
Purchased eBooks are available to redownload for an unlimited period of time.
So enjoy them even after changing your device or upgrading the OS.
4. English language available both on CDJapan's web site and viewer.
5. Credit cards and PayPal are acceptable for eBooks.
6. Easy and simple viewer.
Display layout will be adjusted automatically depending on devices used.
"TraceZoom" function allows users to read manga easily with its auto-enlarging function and also automatically moves to the next frame following the storyline.
Font sizes are adjustable, depending on user's preference.
Various display options are available designed to minimize eye stress.
7. User friendly site.
Products can be searched under various categories such as publisher, author, label, and magazine titles which helps to narrow search results. English and Japanese are both available. Compatible with mobile phones.
For more details, visit http://www.cdjapan.co.jp/ebooks/.