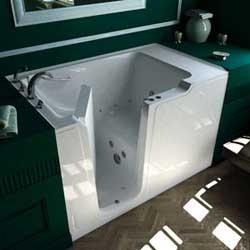 We are thrilled to announce one of the largest walk in bathtub sales events in the country.
Denver, CO (PRWEB) December 18, 2012
Aging Safely Baths & More, a leading national supplier of walk in bathtubs has announced a Holiday Sales Event for bathroom safety products. This sales promotion will feature substantial savings on numerous senior bathtubs, grab bars and hydrotherapy walk in tubs. The company ships safe bathing products to all 50 states and Canada and does not charge for shipping to the lower 48.
This special sales event will offer customers the opportunity to receive discounts from 10 up to 30% off of normal retail prices and will be the lowest prices of the year. According to the company, some of the senior bathtubs will include warm air hydrotherapy at no additional cost for this limited time offer. Hydrotherapy is typically something you could experience at a spa or a physical therapy office, however Aging Safely offers therapeutic hydrotherapy appliances that can easily be installed in most bathrooms, typically without any major remodeling.
For many seniors the bathroom, and especially the bathtub can become an obstacle that can take away security and independence. Aging Safely offers bathers options for safe bathing practices, that can help reduce the chances of having a dangerous fall. Often times it is the height of the entry into the tub that can create a sense of uneasiness, yet for others it may be the inability to easily and safely get up and out of the tub. Aging Safely offers a wide variety of aging in place products with a focus on senior bathtubs, so despite customers many unique needs when it comes to selecting the right product, Aging Safely has numerous options to fit the unique needs of the aging population.
Aging Safely also supplies a roll in shower line that have built in seats, safety grab bars and in most cases are ADA compliant. Customers have the ability to customize colors and designs, and can submit photos and swatches of colors to further enhance personalizing the bathroom safety products that are right for their specific needs. In addition customers may request devices to help regulate temperature, giving bathers further confidence in their selection.
Fall prevention is a serious topic and for those that are considering different options for senior housing and weighing out the costs, it is wise to consider modifying the bathroom. As it is statistically one of the most accident prone rooms in the home. Often times the costs of making some simple improvements to the bathroom such as adding grab bars, a roll in shower or a walk in tub can be far less expensive than assisted living or a nursing home. Likewise, the sense of independence that walk in tubs can offer is something that really cant be measured monetarily. Many times the elderly forgo taking a soaking bath at all, due to fear of falling. Unfortunately, that can contribute to poor hygiene which has many notable downsides.
Aging Safely offers customers no obligation consultations where independent bathing consultants can help shoppers find the walk in tub or bathroom safety appliance that is right for their particular needs. The company also offers a body size analysis to help ensure bathers select the tub or roll in shower that is just right for their body size. This end of year walk in bathtubs sales event is over December 28th 2012, so customers looking for bargains on safe bathing products will be sure not to miss this extravaganza on senior bathtubs.
Contact Information:
Zachary Wennstedt
1-888-779-BATH(2284)
info(at)agingsafelybaths(dot)com