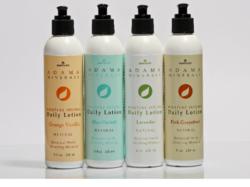 Most modern lotions are loaded with proven carcinogens and other toxic chemicals. When these are placed on the skin, they are absorbed into the body
Bakersfield, California (PRWEB) December 18, 2012
Leading online natural health retailer, Spirit Detox (spiritdetox.com) is expanding its natural beauty line with the addition of Adama Moisture's intense Daily Lotion. The lotion comes from Zion Health and features the rich minerals found in living Kanwa clay. The lotion joins Spirit Detox's existing offerings of clay based supplements, toothpaste and pet care products.
Albert Milligan, owner of Spirit Detox, indicated that he felt the addition of a moisturizing lotion was important for his customers. "Most modern lotions are loaded with proven carcinogens and other toxic chemicals. When these are placed on the skin, they are absorbed into the body. People are already bombarded with toxins in the environment and food supply. We wanted to offer our customers a natural lotion that would not add more toxins. When we learned that Zion Health offered a clay-based lotion, we knew it would be perfect for our customers."
As with all products at Spirit Detox, the lotions are made with mineral rich clay (Calcium Montmorillonite). This nourishes the skin and provides healing naturally. Clay is considered one of the top homeopathic remedies for skin conditions. The lotion comes in three distinct scents, and even the scents are natural, coming from essential oils. Customers can choose blue orchid, lavender, vanilla orange or pink grapefruit scents.
The essential oils are not just for the scent they provide to the lotion, says Mr. Milligan. "Essential oils can also provide health benefits to our customers. Lavender, for example, helps relieve stress and promote relaxation. We believe our customers will find that these lotions provide even more benefits beyond healing from dry, irritated skin."
About Spirit Detox
Spirit Detox provides customers around the country with natural products that contain living clay through an online storefront. The products include supplements, pet care products, personal hygiene products and beauty items. With the healing minerals in the clay, these items help restore the body while eliminating toxins and avoiding harmful chemicals. To learn more about the products or to make an order, visit http://www.spiritdetox.com.
###
Contact
Albert Milligan
Owner/Founder
SpiritDetox.com