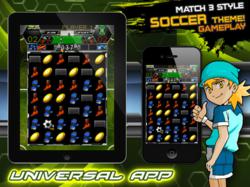 Soccer Puzzle League requires you to think, strategize and plan carefully to succeed.
(PRWEB) December 20, 2012
With the explosion of mobile phones and tablets, match 3 games flourish due to its inherently minimal control requirement, where players only need to slide, drag and move tiles. Match 3 games seem to be a perfect genre for touch screen interface.
As the genre gains popularity, it quickly becomes saturated. However, games like Dragems, a sliding match 3 game collecting monsters, and Triple Town, a city building match 3 game, bring in a fresh breath of air into the genre.
Fast forward to December 1st, 2012, Match3Studio enters the match 3 gaming scene by introducing Soccer Puzzle League. Match3Studio is a startup development company based in Singapore with one mission in mind that is to expand the match 3 games universe with a new variety of gameplay experience that will catalyzed a new era of match 3 games.
With the release of Soccer Puzzle League, they did just that. Soccer Puzzle League is a soccer sports theme match 3 game that cleverly combines puzzle, RPG and strategy element. In the game, like soccer, the goal is to score more goals than the opponent. You score goals by reducing the opponent's defense point (DP) to zero. This is achieved by dragging and matching at least 3 goal tiles. Sounds easy? Think again! The opponent will also try to score goals. Deciding and managing between offense and defense is the key to victory.
According to the lead designer, Budhi Tantra of Match3Studio, the game is not for the faint-hearted. It is designed for someone who is already familiar with the Match 3 genre or someone who is willing to learn the game through in-game tutorial. Soccer Puzzle League requires you to think, strategize and plan carefully to succeed.
With their first game, Match3Studio hopes to keep the match 3 genre fresh, alive and flourish much like what Puzzle Quest did to the genre in 2007.
Next up, Match3Studio is looking to release more match 3 games with different types of gameplay. Currently, they are polishing a game that should be available early in 2013. In the meantime, Soccer Puzzle League will also receive an update to add a difficulty setting. Visit Match3Studio fan page for more information and gameplay tips.