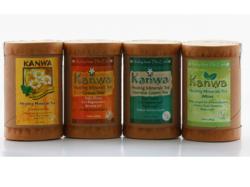 These teas are healthy and safe for kids. Children who are suffering from intestinal problems often see a great improvement when they start drinking these natural remedies, all without the need to swallow a pill
Bakersfield, California (PRWEB) December 20, 2012
In an ongoing effort to find the best wellness products and natural remedies for their customers, Spirit Detox (spiritdetox.com) has added a line of clay-based teas to its supplements. With these teas, customers can benefit from the minerals found in clay while enjoying a relaxing hot beverage. The teas are offered as part of Spirit Detox's relationship with Zion Health.
"We are very excited about this product," said Albert Milligan, owner of Spirit Detox, "because it contains Kanwa clay, one of nature's best natural remedies. This powerful healing clay absorbs toxins and bacteria trapped in the body, especially in the digestive system. It also adds trace minerals to improve health and energy levels."
Unlike other detox teas, this one will not leave those who drink it rushing to the bathroom. It is gentle on the stomach, even while providing excellent detoxifying effects. This means that it can be used daily to improve health and wellness and prevent illness.
"As an added benefit," stated Mr. Milligan, "these teas are healthy and safe for kids. Children who are suffering from intestinal problems often see a great improvement when they start drinking these natural remedies, all without the need to swallow a pill."
Spirit Detox will offer four teas from the Zion Health line. These include chamomile, green, jasmine and mint varieties. All four contain Kanwa clay (Calcium Montmorillonite) to provide the detox benefit of the mineral rich clay.
About Spirit Detox
Spirit Detox is an online store dedicated to providing customers with products similar to traditional home remedies that capitalize on the benefits of mineral rich living clay. Through teas, supplements and personal hygiene products, the Spirit Detox team hopes to help customers limit damage from toxin exposure while restoring health through natural minerals. To learn more about these products, visit http://www.spiritdetox.com.