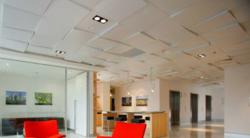 (PRWEB) December 30, 2012
ML Design were looking for a design element that was less traditional than those used in the usual office fit out. They were re-using their existing lobby furniture and the use of a different ceiling material provided a fresh look to the new space they were creating. After finding an image of this type of ceiling in a magazine, ML Design approached Ceilector Ceiling Solutions – USG's Australian distributor to discuss possibilities.
The product, USG Specialty Ceiling Systems – Geometrix was decided on and used as a feature ceiling in the lift lobby and entry to the office for ML Design at Level 8, 333 Ann Street Brisbane. USG Geometrix 3-D metal ceiling panels are made of lightweight aluminium and lend unique perspective and unexpected dimension to ceiling spaces.
Nannette Sanders, Architect and Interior Designer ML Design, said "the use of the Geometrix tiles provided a less traditional look but in a traditional construction element i.e. the suspended ceiling grid. We chose to install the tiles in a random fashion so that an overall 'textured' ceiling was created.
"The results have been very good. The tiles were installed very quickly and the end product looks great. We have had several visitors positively comment on the installation. The installation will still look innovative and different from other lobby ceilings three to four years on".
USG Geometrix Ceiling Tiles are available in a variety of designs and in varying depths, installing easily into USG DONN® Centricitee™ 15mm narrow-profile Grid suspension systems allowing full ceiling accessibility.
The 600mm x 600mm Geometrix panels can be combined either to create 3-D patterns or used randomly to add dimensional variety.
Geometrix is available with High Recycled Content (HRC).
For specific product information, CAD or RIVET files, or for other specialty Ceiling options visit Ceilector Ceiling Solutions website on: http://www.ceilector.com.au/Pages/Range/Specialty.aspx