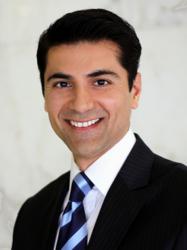 Exercise actually helps with the circadian rhythm.
Beverly Hills, CA (PRWEB) December 18, 2012
A regular guest on the popular news show FoxLA, Sonu Ahluwalia, MD, appears every Monday to provide viewers with information about a wide variety of health topics ranging from orthopedic surgery to general health and wellness. This week, the Beverly Hills-based physician offered insight into the dangerous effect smoking marijuana can have on lung function.
"What's important to realize is that it's as bad if not worse for your lung function," said Dr. Ahluwalia, a physician in La Peer Health Systems' Orthopedic Surgery Department and Chief of Orthopedic Surgery at Cedars Sinai Medical Center. While many people believe that marijuana is less harmful than traditional cigarettes, Dr. Ahluwalia warns that smoking pot can be just as dangerous to your lung health, resulting in both cancer and reduced lung capacity.
Dr. Ahluwalia goes on to say that he is not denying the many health benefits offered by marijuana. Not only does marijuana offer relief from severe nausea and vomiting, but physicians also prescribe the drug for chemotherapy patients, glaucoma sufferers and people with serious pain that does not respond to other forms of treatment.
"The good thing," said Dr. Ahluwalia, "is now there are alternatives [to smoking marijuana]." Patients have the option of purchasing marijuana in other forms such as edibles and essential oils. Ingesting marijuana without the smoke enables patients to enjoy the drug's many health benefits without suffering the consequences associated with smoking cigarettes.
Still, Dr. Ahluwalia warns people to be cautious when consuming any drug. "Everything you consume that's medicinal also has a downside," Dr. Ahluwalia said, mentioning a possible link between marijuana and various psychiatric conditions such as anxiety.
In addition to his expertise with regard to medicinal marijuana, Dr. Ahluwalia shared information about exercise and its effect on the body's sleep cycles.
"Exercise actually helps with the circadian rhythm," said Dr. Ahluwalia. Because exercise is a natural stimulant, working out too late in the day can actually interfere with sleep cycles. Dr. Ahluwalia recommends that people strive to hit the gym in the morning or early afternoon rather than late in the evening or just before bed.
Watch the entire news segment on MyFoxLA.com.
For more health tips from Dr. Ahluwalia, as well as videos of his FoxLA segments, visit his Facebook page.
Sonu Ahluwalia, MD, is an internationally-acclaimed board-certified orthopedic surgeon at La Peer Health Systems, as well as the Clinical Chief of Orthopaedic Surgery at Cedars Sinai Medical Center in Beverly Hills. His private practice specializes in sports medicine, shoulder, knee and hip surgery.
Dr. Ahluwalia completed his orthopedic training at the Harvard Combined Orthopaedic Surgery Residency Program in Boston, one of the most sought after training programs in orthopaedic surgery. He has completed three fellowships, two at Harvard Medical School and one at Lenox Hill Hospital in New York City, on shoulder surgery, sports medicine, and joint replacement and joint preservation surgery. For more information please call 310.659.2910 or visit http://www.Ahluwalia.org.