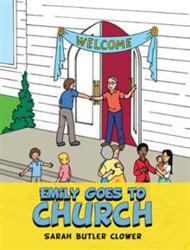 "Church is the family of God here on Earth," says Clower. "God loves us so very much, and wants us to be part of His family too!"
TROY, Ala. (PRWEB) December 20, 2012
After a new family attended her church and children's discipleship class, Sarah Butler Clower wanted a way to explain exactly what all the stuff going on around them meant. "Emily Goes to Church" (published by CrossBooks) is her simple story to help not only them, but anyone who has ever wondered what goes on in church.
The story follows Emily as she accompanies her friend, Matt, to church. With every turn of the page, readers see, through Emily's eyes, the fun and exciting world of a churchgoer as they learn about Jesus in Bible class and sing hymns about God's love in the sanctuary. In the end, Emily learns about God's love for her and becomes a believer.
An excerpt from "Emily Goes to Church":
"Next it was time to go to the worship service. Matt led the way into a big room where lots of people of all ages and colors were gathering. The people were hugging and talking with each other. 'It looks like a big family reunion here,' Emily thought. The service started and everyone sang songs to God. Emily didn't know the songs, but she started catching on pretty quickly as she read the words. Emily liked the songs."
"Church is the family of God here on Earth," says Clower. "God loves us so very much, and wants us to be part of His family too!"
"Emily Goes to Church"
By Sarah Butler Clower
Softcover | 8.5 x 11in | 28 pages | ISBN 9781462720750 |
E-Book | 28 pages | ISBN 9781462721689 |
Available at Amazon and Barnes & Noble
About the Author
Sarah Butler Clower works as a registered nurse, and she is a pastor's wife and children's discipleship class leader at a rural Alabama church. Clower and her husband, Chase, are following God's call wherever He may lead, along with their rowdy, lovable American bulldog, Charlie.
CrossBooks, a division of LifeWay Christian Resources of the Southern Baptist Convention, is a Christian publishing imprint committed to bringing more Christian voices into the publishing industry. Established authors, first-time authors, and authors anywhere in between can meet their goals and fulfill their vision for their books by publishing with CrossBooks. CrossBooks' innovative style of publishing blends the best of traditional and self-publishing. While our authors contribute monetarily to cover the cost of publishing, we maintain a strict moral and quality standard that every manuscript must meet for us to publish. For more information on publishing your Christian book with CrossBooks, log on to crossbooks.com or call 1-866-879-0502.
###