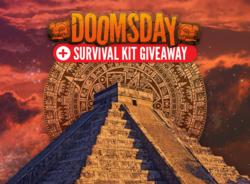 To prepare one human for these unavoidable, cataclysmic, transformative and world changing events, Doomsdaygiveaway.com has put together a robust survival kit.
New Haven, CT (PRWEB) December 18, 2012
DoomsdayGiveaway.com is preparing one human with an end of the world survival kit. With the Mayan Calendar coming to an end on December 21, 2012 there are only a few days left before the possibility of an apocalypse. To prepare one human for these possible cataclysmic, transformative and world changing events, DoomsdayGiveaway.com has put together a robust survival kit.
The contents of the survival kit giveaway include:
Scottevest Classic Vest - a lightweight and breathable vest with over 22 pockets and compartments to carry survival essentials.
Spotlight Rescue & Shifter Light - a rechargeable LED light that shines over 350 ft. and has an emergency strobe function and a pen sized light for when the moonlight just doesn't cut it.
Kammok Roo Hammock - A hammock that can be placed literally anywhere, made of a lightweight, tear resistant, and breathable LunarWave fabric.
Kor Vida Hydration Vessel - A durable 750ml steel bottle to store water and keep an individual hydrated.
Best Made Co Hudson Bay Axe - A portable, versatile, and razor sharp axe to chop wood for a fire or even to build shelter.
Best Made Co First Aid Kit - For any injuries, this first aid kit provides all the essentials.
BioLite CampStove - Forget the fuel, this stove allows one to cook meals and boil water with just sticks and twigs. As an added bonus, one can charge their gadgets, although there will be no one to talk to once the world ends.
Gerber Gear Bear Grylls Ultimate Kit - This 16 piece all-in one survival kit is for the most hostile environments and has everything necessary to survive. Includes waterproof matches, hand saw, fishing kit and much more.
Moleskine Notebook - One will want to document their journey as the only survivor when the world ends. With this portable and durable Moleskine notebook one can do just that.
House of Jerky - One may get tired of fishing and hunting for food, so this beef jerky will keep one going. Over 5 different jerky flavors including: natural, black pepper, teriyaki, hot, and sweet & spicy.
Cards Against Humanity - There is no better way to keep oneself entertained than to play a card game that reminds one just how horrible humanity really is..err..was.
To enter for a chance to win this survival kit, check out DoomsdayGiveaway.com. For everyone that doesn't win, see you on the other side.
About ViralSweep: DoomsdayGiveaway.com is the brainchild of ViralSweep. ViralSweep allows you to build and run a sweepstakes on your website in minutes.