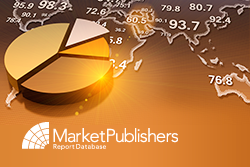 London, UK (PRWEB) December 18, 2012
The global point-of-care (POC) testing market was estimated at over USD 13.39 billion in 2010. It is predicted to grow at a CARG of above 3.68% and to reach nearly USD 16.4 billion by 2017. In 2021, the POC testing market is likely to amount to USD 34.59 billion. Glucose monitoring forms the largest segment of the market. It was evaluated at USD 7.49 billion in 2011. The market growth is spurred by fierce competition amid market participants, increasing consumer demand, technological advancements and development of new products.
Abbott, Corgenix, Diagnostica Stago, Diamedix, Eiken Chemical, EKF Diagnostics, Kreatech, Kyowa Medex, Life Technologies, Matritech, Nihon Kohden and Ortho-Clinical Diagnostics are among the key companies playing on the POC testing market.
New market research report "Point-of-Care Testing Markets: Innovative Technologies and Emerging Business Opportunities" created by Venture Planning Group (VPG) has been recently published by Market Publishers Ltd.
Report Details:
Title: Point-of-Care Testing Markets: Innovative Technologies and Emerging Business Opportunities
Published: December, 2012
Pages: 1007
Price: US$ 12,500.00
http://marketpublishers.com/report/life_sciences/healthcare/point-of-care-testing-markets-innovative-technologies-n-emerging-business-opportunities.html
The report offers a deep insight into the global POC testing market. It contains comprehensive assessment of the emerging POC market segments and provides valuable data on the segments' size, dynamics, growth opportunities and regulatory requirements.
The study delves into the competitive landscape of the market, indicates major reagent and instrument suppliers, unveils information on their industry shares, product portfolios, sales and marketing tactics. The research study reviews the existing and emerging technologies in detail and characterizes their application areas. The study also covers currently available products and ones being under development, presents data on products' features and selling prices. Besides, the report thoroughly examines the worldwide business environment and outlines the growth opportunities of the industry. Furthermore, the research discloses future prospects for the POC testing market.
Reasons to Buy:

The report enriches knowledge about the POC testing market by providing essential information on the market segments, technologies, products, leading companies and trends.
In-depth analysis of the global business environment and evaluation of the competitive landscape found in the study allows to develop more effective business, R&D and marketing strategies and to make right business decisions.
Major companies' profiles available in the report give possibility to estimate and choose business partners.
Comprehensive analysis of various market segments helps to evaluate market entry barriers and risks.
The market study provides extensive guide to the emerging technologies and products, thus, keeps one up to date with the recent industry tendencies.
More new market research reports by the publisher can be found at VPG page.