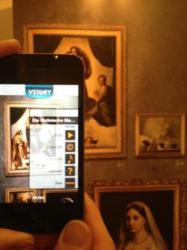 Tel Aviv, Israel (PRWEB) December 20, 2012
The collaboration takes advantage of Espro Acoustiguide's in-depth knowledge of cultural visitors, digital interpretation and content creation, and Eyeducation's leading edge technology application. Eyeducation's app enables a one-step and direct interaction with static, physical objects and images. The joint forces of Espro Acoustiguide and Eyeducation brings state of the art image recognition / augmented reality technology to the consumer mass market with easy to use and beautifully designed solutions tailored to museums, art fairs, tourist attractions, visitor venues, city tours, conferences and publishers.
Eyeducation was established in 2010; its in-house developed Vstory platform was specifically designed to connect the physical and digital worlds to enhance interactions and experiences around physical spaces and products. With the Vstory app downloaded to any iOS or Android smartphone, all a user needs to do is point the smartphone at the object...and that is the whole (V)story! Content choices automatically appear on the screen inviting the user to select and enjoy a variety of media including audio, video, text and interactive games.
Any museum or site visitors, and actually any app user, can interact with physical objects, exhibits, images or any printed materials in order to see, hear and experience their story, in an exciting new way.
Israel Gal, CEO of the Espro Acoustiguide Group commented: "Espro Acoustiguide is always developing and enhancing our systems to meet the changing needs of the sophisticated cultural tourism market. With billions using smartphones strong enough to enable the processing of Vision Recognition technologies, it became very important for us to bring this technology to our clients and their visitors.
The combination of Eyedulation's leading edge platform, Vstory, and Acoustiguide's digital guiding interpretation and content creation will allow our two companies to offer museums the most attractive new functionality to meet their visitors' demands in the digital age".
Yoram Ben-Zvi, Managing Director of Eyeducation, noted "We are excited to have the opportunity to introduce Vstory's leading-edge technology to museums, tourist attractions and visitor venues, with Espro-Acoustiguide and its worldwide distinguished client sites. Wherever we demonstrated Vstory, the platform has been accepted with great enthusiasm and we believe it may bring a great addition to any museum experience."
To view Vstory in a museum experience, please click here
Download Acoustiguide-Vstory free app here
Scan our logo, too. You see? This is the whole Vstory!