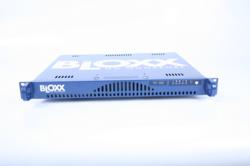 One of the primary benefits of the Bloxx Web Filter is the saving in IT time and resources in setting up policies that are more flexible.
Boston, MA (PRWEB) December 19, 2012
121 Financial Credit Union today announced the recent transition to a next generation Web filtering solution from Bloxx, to more effectively manage the Web browsing activity of its staff in 10 locations around the Jacksonville, Florida, area.
Bloxx, a leader in Web and email filtering, is assisting 121 Financial Credit Union in its transition to this real-time content filtering system which protects employees from accessing inappropriate Web content or malicious applications via the Internet. A prior Web filter solution from WebMarshal (now owned by Trustwave) wasn't providing the configuration or Active Directory integration capabilities required, and the filter was "over blocking" sites employees needed to conduct business.
"We were looking for a next generation solution that looks at Web pages in real time, and powerful categorization and policy controls that make our access policies more flexible and practical," said Larry Rouse, Information Technology Manager at 121 Financial Credit Union.
Rouse chose a Bloxx 500W Web Filter and is impressed with the full integration with Active Directory and ease of configuration.
As Rouse comments, "One of the primary benefits of the Bloxx Web Filter is the saving in IT time and resources in setting up policies that are more flexible while giving us more control and visibility into web access use. It's also much easier to add and set a person's access via an Active Directory group; that is a big time saver for us in itself."
Bloxx's advanced real-time content categorization engine, Tru-View Technology, has also addressed the incorrect blocking of business-related sites. The only genuine real-time categorization product on the market, the Bloxx Web filtering solution analyzes the content of Web pages at the point of request, places the page into one of 50 categories, and allows or blocks access depending on the requestor's access policy. This dynamic and comprehensive approach is the only way to effectively manage the content on an ever-growing Internet.
Rouse concludes, "We were hoping for a solution which was easy to manage, gave our employees the access they needed to do their jobs, and could give us better reporting functionality. We've got these with Bloxx; it's 100% better than our previous solution. It has been completely trouble free."
About Bloxx
Headquartered in Boston, Bloxx Inc offers Web and email filtering and security for medium and large organizations in both the business and public sectors. Bloxx has achieved unrivalled sales growth year-on-year to become a leading Web filtering provider with an estimated 5 million+ users worldwide. To find out more about Bloxx Web filtering call us at 617 924 1500, email info(at)bloxx(dot)com or visit http://www.bloxx.com to book an online demonstration.