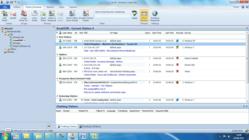 Orlando, Florida (PRWEB) December 20, 2012
WhosOn Live Chat Software is listed for the third year running in Website Magazines Top 50. Website Magazine is a publication dedicated to website professionals on how to succeed on the web, highlighting key topics such as search engine optimization and marketing, website design, e-commerce, online advertising, email marketing, analytics, and customer service/customer relationship management.
WhosOn, developed by Parker Software, whose other products include Email2DB and Email2Cloud, have been developing their Live Chat Software and real time web analytics platform, WhosOn, since 2003.
With an ever expanding feature set, which for early 2013 will include a live video chat feature, ensures that WhosOn remains a leader in the Live Chat Software space.
WhosOn has previously featured in "Today's Top Web Companies" a review highlighting some of the most effective and innovative tactics and technologies on the Web. In 2012 WhosOn was featured as a "Software Solution to Explore in 2012" a listing exploring software that was integral to a company's success in 2012, to help gather intelligence, engage in web marketing and to communicate digitally.
For a forthcoming 2013 Website Magazine release, WhosOn is listed as a top 50 "Solution for the E-Commerce Customer Experience" a further endorsement for WhosOn.